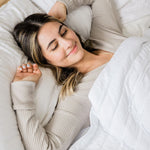 When you think about the term "sleep solutions" what comes to mind? Are you thinking about sleep aids? Oils? Diffusers? Your bed or mattress? Maybe you think about buying a new set of sheets? Sleep is such an important part of your physical and mental health, but it's often approached with a one-size-fits-all mindset. There is no one singular answer to getting the best night sleep. It's a journey that is continually evolving and changing throughout your life, but it's always incredibly personalised to you.
Creating the perfect sleep solution for yourself doesn't start with an individual tool or product. It starts with you, taking ownership of your choices and making a conscious effort to prioritise sleep. Only you can navigate your best night sleep, and you're the only person who can ensure you continue to sleep your best every night until you're feeling 110% every day.
Sleep is a broad topic, we can talk about the importance of good sleep, the different things that impact a bad night's sleep and everything in between. However, the three main categories of sleep concerns generally include:
Having trouble falling asleep at night

Waking up within the night and struggling to fall back asleep

Finding yourself waking up in the morning and not feeling well rested or refreshed
If you're having trouble with your sleep, the chances are you found yourself nodding along to one, if not more of the above concerns. Not every person will experience every concern, and some people might find they experience all three concerns at once. In order to take control of your sleep, you need to identify what area or areas are impacting you.
How do you create the perfect sleep solution?
Finding your perfect sleep solution doesn't need to be daunting or overwhelming. Just like a puzzle, all you need to do is go through the individual pieces and put them together to create a final picture. There are a range of different tools available to help you get your best night sleep, from techniques and strategies, to products and lifestyle changes.
Over the next month, the expert team at The Goodnight Co are going to help guide you towards different areas that you can consider to work towards getting your best sleep. We are going to give you the tools to create the perfect solution that is customised to you and your sleep. 
The first step to start sleeping better
Though having sleep issues are common, it doesn't have to be. The best way to start to get your sleep in check is to complete our Free Sleep Quiz. With the right tools and support, a good night's sleep is right around the corner.