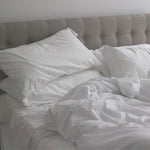 How much thought and energy have you put into your sleep space and sleep hygiene? Do you know that your sleep might be getting unintentionally disrupted because of different elements of your bedroom? Factors such as bright colours, artificial light, and temperature can significantly affect your sleep quality. To ensure a peaceful and restful sleep, it's important to create a clean, calming and inviting sleep space that serves as a sanctuary dedicated to rest. 
We spend a lot of time in our bed, which can make it a breeding ground for germs, bodily waste (such as dead skin cells and sweat), dust and creepy crawlies when your sleep hygiene is lacking. So during our sleep solution month, we suggest it's time to audit your sleep hygiene and sleep space to start to get yourself on track for your best night of sleep. Here are a few things for you to check:
When was the last time you changed your pillow? - your pillow is such an important part of your sleep habits. You should be changing your pillow every 12 to 24 months.

Change your sheets regularly - your sheets should be changed every 2 weeks, to ensure your bed is clean and comfortable.

Deep clean your bedroom - taking everything out of your room and

really

cleaning it on a regular basis is imperative to a good night sleep. Dust and pollen can wreak havoc with your allergies and this can have a huge negative impact on your sleep.

Declutter your bedroom - clearing your bedroom from mess and clutter to ensure you create a calm and harmonious sleep environment.

Choose calming colours within your bedroom - vibrant and stimulating colours can be interrupting your sleep. Keeping the decor neutral and calm will ensure you sleep your best.

Remove electronics from your bedroom - your bedroom should be a space reserved for sleep and sex. Removing distractions such as electronics and technology will help you achieve a great sleep space.

Set your perfect temperature - when it comes to your bedroom, you want to ensure the space is not too hot and not too cold. Both hot and cold temperatures can impact the way you sleep. Everyone is different, but finding the best temperature for yourself will make sure you get the best sleep every night. 
Did you know? The average person sheds about 1.5 grams of dead skin cells every day, feeding up to one million dust mites at a time; and sweats up to 26 gallons a year… just in bed.
Learn more about sleep hygiene
If you want to learn more about sleep hygiene, have a read of another article from The Goodnight Co Journal, Why Sleep Hygiene Matters. If you're unsure how to get your sleep hygiene in order, our personalised Sleep Consultations with our resident Sleep Expert, Shea Morrison is a good place to start. Shea will work with you to build your ideal sleep solution, making sure you get your best night sleep, every night.