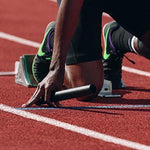 As we watch the world's best athletes perform on the world's largest stage, have you ever considered what some of them regard as the most important part of their training routine? It's not exercise or diet…it's sleep!
That's right, getting enough sleep is crucial to an athlete's performance, reaction time and recovery time.   If athletes don't receive an adequate amount of sleep,  their performance can greatly suffer.
The world's fastest man, Usain Bolt has said "Sleep is extremely important to me - I need to rest and recover in order for the training I do to be absorbed by my body". And Usain's not alone, Roger Federer gets between 11 to 12 hours sleep a night.
 According to the National Sleep Foundation, the average adult should get between 7-9 hours of sleep per night.  For adolescents and athletes, that number rises to 8-10 hours of sleep per night. 
Even if you aren't an elite athlete, good old-fashioned sleep is still essential for optimal health. To ensure you're performing at your absolute best we recommend:
Getting enough sleep – consistently

Optimising your sleep environment

Avoiding substances that can affect the quality of your sleep
When we watch the world's best athletes perform and compete, it's comforting to know that we too can train like them just by getting good sleep each night!