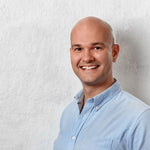 Written by Edward McLeish
All it takes is a few spritzes of The Goodnight Co's Sleep Mist and I'm out like a light within minutes. Moments after the citrusy lavender scents from the mist's essential oil ingredients hit my sheets and pillows and I tuck myself in, I am taken back 10 years ago. I'm a teenager and learning the combination of these ingredients plus more can soothe and help me get to sleep more quickly.
Perhaps, over time, I forgot the significance of this simple pleasure – maybe because it was a simpler time and I didn't have as much responsibility back then. Sleep just wasn't as important.
A simple check in to set myself up for better sleep
But now, I've been coached to check in with myself as I take each TGC product, hence why the nostalgia of those particular scents in the Sleep Mist makes mentally reinforcing relaxation even more powerful.
When I use the Good Morning Blend at sunrise, Calm Drops during the day, and the Good Night Blend, Sleep Drops, Sleep Mask and Sleep Mist at night, I think to myself: 
How am I feeling? How stressed am I out of 10? What do I need to do to ensure I am a better sleeper tonight?
Taking up these products stemmed from a mentor's idea after she questioned how I could improve my life – professionally or otherwise – and I told her I let the stresses of my day consume me at night time, keeping me from getting to sleep. 
Then, I would constantly get up in the middle of the night, needing to wee, and then couldn't stop thinking about the day ahead, keeping me up for at least another two hours.
The negative impact of my poor sleep
I work as an employee in marketing and communications for an agriculture and science company while I have also started my own consulting agency as a sole trader. If I am not a good sleeper and if I can't learn how to tune out of my day, there's no way I can uphold all of my responsibilities. 
When I don't sleep, I am moodier, less productive, resort to eating low quality food and not exercising out of sheer laziness. It's a discomforting, spiralling cycle, but it doesn't take a long time of being in one to feel (and look) physically and mentally worse.
Being an average sleeper was something I always thought to be – in a sense – hereditary, with a large portion of my family labelling themselves 'worry warts' and not taking chemical-free steps to get a more sustainable night's sleep. Melatonin, a natural hormone which you can use every day, didn't consistently work for me either. 
My Sleep Consultations with Shea changed my view on sleep
I felt nervous about venturing into TGC's product line, with several questions around how the products worked. Luckily, I also received three sleep consultations with co-founder Shea Morrison, where I could – over a month - address such concerns and figure out what else I needed to do to get a better night's sleep.
Not to discredit the products at all – but I would say the advice Shea gave me helped pave my path to continuous self-improvement so instantaneously impactful that I thought the consultations were more valuable than the products. 
Shea and I broke down all my negative habits during the day and found several ways in which I get to sleep more quickly and stay asleep throughout the night. So while my experimenting with The Goodnight Co's products and services is far from over, and I am not quite a master of my sleep, I'm on my way to being a less moody, more consistent performer.
Ed is an average Australian guy, who decided to take control of his sleep and make a change. His story is the reality for many busy Australian professionals. This Men's Health Week we encourage you to support the men in your life to take control of their sleep habits.