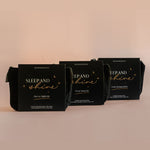 Have you ever wished for more sleep? If you answered yes, you're not alone. A recent survey conducted by the Sleep Health Foundation found that nearly 60 per cent of Australian adults are not getting enough sleep. That's one in two people!
Christmas is just around the corner so make someone's actual dreams come true by giving your loved ones the best gift of all - a deep, restorative sleep.
We've created a range of high quality, carefully curated sleep kits of our favourite things to help you sleep!
Choose from four thoughtful gifts that are tailored to treat specific sleep challenges, from trouble getting to sleep right through the night to trouble staying asleep and waking up.
Believe it or not, a good night's sleep starts as soon as you wake up. Everything from exposure to sunlight and blue 'screen' light, stress, caffeine and alcohol consumption, as well as your diet can impact the quality of sleep.
If you're having trouble getting to sleep, try the all natural sleep support offered by the Day to Night Kit.
The Day to Night pack contains our all natural Calm Drops which are formulated to help calm a worried mind and support a deep, restful sleep. the Calm Essential Roll On helps to relieve stress and anxiety as you apply to your pulse points, such as your wrists or neck and finally, the soothing Sweet Dreams Sleep Mist is included to create the perfect space and calm your body and mind before bed. The Silk Sleep Mask blocks out light and helps you get in the zone for a solid eight hours of blissful zzzz.
How to use: 
Take Calm Drops and/or use Calm Essential Oil Roll On throughout the day whenever you need to calm your mind.
Spritz Sleep Mist on your linen before bed to prepare for deep sleep.
Use the Silk Sleep mask for uninterrupted sleep.
Do you wake up feeling exhausted? The party season and a long year of work, school, parenting and well, life, take their toll in December.
If you need an extra boost in the morning, this all-natural formulation will help put the zing back in your morning. 
This pack includes our Morning Drops to boost alertness and focus, our Good Morning Roll On to apply to your pulse points to help you feel refreshed and our Sweet Dreams Sleep Mist, formulated with a soothing blend of floral essential oils to help you sleep more soundly and deeply.
How to use: 
Take your Morning Drops when you wake up, before brushing your teeth.
Use the Calm Essential Oil Roll On throughout the day and in the afternoon when you are feeling anxious and need to calm a racing mind.
Spritz Sleep Mist on your linen before bed to prepare for deep sleep.
Are you staring at the ceiling for hours after you've gone to bed? Or are you waking up multiple times throughout the night?
The Deep Sleep Kit is specially formulated for people who are suffering from mild insomnia or disrupted sleep. 
Included in the pack are our best-selling Deep Sleep Drops, containing all-natural ingredients to support a calm nervous system and deep, restful sleep. The Goodnight Essential Oil Roll On and Sweet Dreams Sleep Mist are formulated to transform your sleep space and improve your overall sleep quality, so you can have some much needed rest. 
 How to use:
Use your Goodnight Essential Oil Roll On 1 hour - 30 mins before bed to prepare the body and mind for sleep. 
Spritz the Sleep Mist in your space and take your Deep Sleep Drops to help you fall asleep and stay asleep. 

USB Portable Diffuser
Coming Soon 
Are you planning to travel over the Christmas break? Travel presents a range of challenges to sleep, and while jet lag won't be much of a problem this year, there are still uncomfortable spare beds, excitable children and the neighbourhood possums to contend with.
Whether you buy this for yourself or you give one to everyone you know, this handy little diffuser is your on-the-go aromatherapy companion to help you drift off to sleep without a worry.
Whether you listen to meditation apps, do breathing exercises or give up and watch Netflix until midnight, our Essential Oil Blends will help you stay calm and centred while you prepare for sleep.
From new parents through to shift workers whose sleeping habits are permanently upside-down, we all know someone who could benefit from better sleep. 
This Christmas, give the best gift of them all - the gift of deep, rejuvenating sleep with the help of The Goodnight Co.
Looking for more things to help you sleep? Try adding these to your routine.
A daily dose of sunlight: Sunny days can do wonders for your sleep, especially in the morning. Research has found that people who were exposed to sunlight before noon, fell asleep more easily at night with fewer experiencing disrupted sleep during the night. Try and make an effort each day to spend a little time outside, even if it's just while you're eating breakfast or on your lunch break – your body will thank you for it when it's time for bed.  
 Create an exercise routine: It's no secret that daily exercise can do wonders for your health and wellbeing, but a good exercise routine can be even better for your sleep. If you can schedule at least 30 minutes each day for a morning walk, afternoon run or evening yoga class, your body and mind will be more relaxed when it's time to wind down – prompting a good night's sleep ahead!
 Diffuse and snooze! Aromatherapy is known as the use of essential oils and other plant aromatics to bring about physiological and emotional changes. In simple terms, your mind and body can benefit greatly from diffusing or inhaling essential oils and their aromas. Some of our favourite sleepy scents are our Goodnight Blend and our Calm Blend.
 Flip the switch on your devices: Cutting out technology before bed plays a major part in getting the ultimate night of Zzz's. Ideally, switching off all devices at least two hours before bed will help the mind to wind down and promote melatonin production (the sleepy hormone) so you're feeling tired when it's time for sleep.