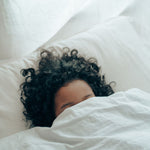 Are you getting enough deep sleep?
We all know that sleep is important to maintaining a healthy wellbeing, something that we're sure you can particularly vouch for after sleeping poorly for just one night! With links to everything from our weight, mood and brain function, a good nights sleep is just as significant as consuming the right types of food and fluids to ensure our bodies run correctly. 
Just as we pay attention to our nutrition, have you ever considered the importance of understanding your sleep cycles? Keeping a close eye on our sleeping routines can help us make smart sleeping decisions and implement habits that can help our overall health and wellbeing. And, with 1/3 of our lives spent in the snooze zone, here's what you need to know about what happens every time your head hits the pillow:
Understanding Sleep Stages
Let's talk about sleep stages. There are two basic types of sleep, deep rapid eye movement, known as REM sleep and non-REM (NREM) sleep. While there is only one stage of REM sleep, there are three different types of non-REM sleep which are separated in stages by the brain waves (signals) we send to the rest of our body. During a night of healthy night sleep, we cycle back and forth through these stages multiple times, before falling into our deepest periods of sleep in the early morning. Each stage plays a pivotal role in restoring our bodies and ensuring we're in the best shape to take on a new day:
Stage N1 (NREM 1)
is the initial transition from our alert state to a state of restfulness. This stage lasts only several minutes and triggers your heartbeat, breathing, and eye movements slow. During this time you may experience slight muscular spasms as your muscles relax and you may maintain some awareness of your surroundings (tv, voices) as you doze off.
Stage N2 (NREM 2)
is the period of light sleep before you completely transition into a deep sleep. Initially, you spend around half an hour in this stage as your heartbeat and breathing begin to slow right down, eye movements stop and muscles relax even further. Here, your internal temperature and brain wave activity also lower and you can bounce back into this stage throughout the night more than any other sleep stage
Stage N3 (NREM 3)
occurs when our heart and breathing slow to their lowest levels, it is also our most regenerative period where our body heals and repairs itself. The first period of Stage N3 occurs for roughly 45-90 minutes and like Stage N2, we can revisit this stage throughout the night.
Stage R or REM 'rapid eye movement'
first occurs after 90-110 minutes of sleep and is the stage in which our brain activity is most active. Here, our eyes, although closed, dart back and forth as if we were awake, giving means for the name! Our brain waves present closest to what we experience when we are awake and this is the period in which we dream. Fortunately, despite the activity, our bodies release chemicals that render us temporarily paralyzed so that we don't get up and act out our dreams! 
How Long Do Sleep Cycles Last?
For every individual sleep cycles looks different, but on average our stages run like this: 
Stage N1 (NREM 1): Several minutes before entering Stage N2 (NREM 2)
Stage N2 (NREM 2): 30 minutes for the first phases and repeatedly throughout the night.
Stage N3 (NREM 3): 45-90 minutes and we can revisit this stage throughout the night, although these periods shorten after the first encounter. 
Stage R/ REM: 90-110 minutes repeating about every 90 minutes after.
How much deep sleep should I have?
Your need for sleep constantly changes as you age and unfortunately, there is no perfect answer to how many hours of sleep you should be getting each night, as environmental changes, lifestyle and medical conditions that alter sleep, look different to every individual. Despite this, the below guidelines may help you shape your night as you strive for your own optimal sleeping patterns. 
National Sleep Foundation's Sleep Duration Recommendations:
Age

Recommended

May be appropriate

Not recommended

Newborns

0-3 months

14 to 17 hours

11 to 13 hours

18 to 19 hours

Less than 11 hours

More than 19 hours

Infants

4-11 months

12 to 15 hours

10 to 11 hours

16 to 18 hours

Less than 10 hours

More than 18 hours

Toddlers

1-2 years

11 to 14 hours

9 to 10 hours

15 to 16 hours

Less than 9 hours

More than 16 hours

Preschoolers

3-5 years

10 to 13 hours

8 to 9 hours

14 hours

Less than 8 hours

More than 14 hours

School-aged Children

6-13 years

9 to 11 hours

7 to 8 hours

12 hours

Less than 7 hours

More than 12 hours

Teenagers

14-17 years

8 to 10 hours

7 hours

11 hours

Less than 7 hours

More than 11 hours

Young Adults

18-25 years

7 to 9 hours

6 hours

10 to 11 hours

Less than 6 hours

More than 11 hours

Adults

26-64 years

7 to 9 hours

6 hours

10 hours

Less than 6 hours

More than 10 hours

Older Adults

≥ 65 years

7 to 8 hours

5 to 6 hours

9 hours

Less than 5 hours

More than 9 hours
How to improve deep sleep
Every pre-bedtime choice you make can impact your quality of deep sleep. This includes your social life, work schedule, parenting obligations, even binge-watching your favourite TV show may be affecting your sleep quality! We've listed 4 simple changes that may help you get the right amount of sleep in all its glorious stages.