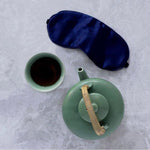 1. Gratitude
The benefits of practicing gratitude are nearly endless. People who regularly practice gratitude by taking time to notice and reflect upon the things they're thankful for experience more positive emotions, feel more alive, sleep better, express more compassion and kindness, and even have stronger immune systems. And gratitude doesn't need to be reserved only for momentous occasions: Sure, you might express gratitude after receiving a promotion at work, but you can also be thankful for something as simple as a delicious piece of pie.
So feeling gratitude is undoubtedly an immensely empowering ritual. Start your day by being thankful for those positive things that happened the previous day or throughout the week. It could be something really petty and small. It doesn't matter. You might be grateful for an unexpected visit from an old friend, a beautiful encounter with a kind stranger, a new opportunity or whatever it is that shines your way. Do it every morning and see what happens during the day.
 2. Writing down your most important tasks
This is a very practical ritual. Start your day by identifying and writing down from one to three of the most important tasks you need to complete during that day. These tasks are ones which support important long term goals that are aligned to your purpose, passion or general direction in life. For example, if writing a book or building an online community are important long term goals which are aligned to your personal growth, then an important task for the day might be finishing off a particular page or two of the book or coming up with fresh content ideas for the online community. What is important with this ritual is that you identify these tasks and complete them as early in the day as possible. Of course you will have other tasks apart from the ones you will write down but these are tasks which can be tackled later or batched up and carried out in one go.
Writing down your most important tasks in the morning, helps you focus your day and life according to what is essential. It helps you prioritise and manage your time better. As a result, you simplify your life by applying your focus and energy on what really counts for your overall life progress.
3. Affirm your goals in writing or drawing
This is similar to the previous idea but different in its application and purpose. Writing down your most important tasks of the day is a way to have a concrete structure of action to follow. Affirming your goals, on the other hand, is a very powerful way of crystallising your vision and goals in life into your everyday mental space. Writing down or doodling your goals on a piece of paper helps you externalise those goals by giving them form. In return they are reflected back in your subconscious mind thus reinforcing them and integrating them more wholly.
An example of this would be writing down "I am achieving greater success in my career" or "I am becoming healthier and stronger through my exercise". Notice the present tense being used as a way to tell yourself you are in the process already. Remember the life script we subconsciously follow? You are basically modifying the script to be applied now in the present. Drawing or doodling can be equally, or even more, effective  (if you are more of a visual person) as it summarises a graphical representation of your goals. For example, if your goal is to build a new house or live in another country, you can draw the house or draw things that symbolise the country you want to live in.
 4. Meditate
Meditation is the disintegration of the thoughts in our pure consciousness without embodiment, knowing without thinking and fusing finitude in infinity. It's like taking a bath or shower to clean our mind like we take shower in the morning to clear our body and after that we get busy in our daily activities. Meditation everyday is for bringing calm and peace to our mind, like after taking a shower we don't have to take bath throughout the day similarly we don't need to meditate all day. However it's not that easy to keep yourself undistracted and undisturbed, but the regular routine or practice of meditating daily will make it much easier.
Meditation when helps you to improve and enhance all your inner qualities, will combine all to attract success in your life and will help you to achieve your desired goals. You will become more positive towards your life after being re-energized and rejuvenated.
5. Hot Water with Lemon
(Photo source: http://www.healthyfoodhouse.com/)
Simply add a slice of lemon in a glass of hot water and drink one every morning. This is a very simple ritual I follow faithfully every morning. Apart from being a good source of vitamin C and a great way of flushing out toxins in the morning, it balances and maintains the PH levels in the body, reduces pain and inflammation in joints and knees and helps nourishing brain and nerve cells
6. Rise Earlier
The practical advantages of waking up early are obvious. For example you gain more time for doing exercise such as walking, cycling or practicing yoga. You gain more time to be with yourself to reflect, meditate or, more importantly, carry out the other morning rituals! So rising early can be seen as a foundation for all the other morning rituals. Many, like myself, find that they are more productive in the early hours of the day.
(Photo source: http://www.youbeauty.com/)
Also, various studies have shown that there are many other benefits from waking up an hour or two earlier in the morning. For example it has been shown that sleeping early and waking up early helps the body attune with the earth's circadian rhythms thus promoting more restorative sleep. Other curious results from such studies show for instance that early risers tend to be more optimistic and can anticipate and solve problems more efficiently than the norm.