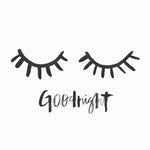 Sleeping on silk is a smart way to enhance your false eyelash after-care routine.
The smooth, tightly woven fibers found in the 22 momme silk pillowcases help keep your skin tight and well hydrated. This means you can reduce your usual face creams and serums whose oily ingredients can break down your lash glue and cause them to fall out prematurely.
Silk is a completely natural product that contains no chemicals or artificial materials. It is naturally resistant to allergens like fungus, mold and mildew. These natural properties deter nasties that can get caught in your lashes and cause them to detach. Sleeping on silk will help you say goodbye to unsightly red and itchy eyes that could cause you to scratch and interrupt those beautiful lashes.
Unlike other materials your hair will gently slide across our soft silk pillowcases, and the same goes for your eyelashes. They wont rub or get stuck in any loose fibers, making them less likely to fall out during your sleep.  This also means you wont wake up with those annoying, unappealing kinks in your lashes that defeat the purpose of getting them in the first place.
Our 22 momme silk pillowcase and eye masks will boost the visual appeal of your lashes and will help them last even longer than you're used to.
You'll be the envy of all your friends with a long, luscious set of lashes that last for weeks. Beyond just aesthetics, a lasting set of lashes will mean fewer trips to the salon, saving you on both time and money. So what are you waiting for? Give yourself a silky sleep and keep those lashes in tact.