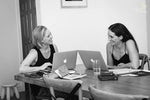 We took the leap of faith just over a year ago when 'The Goodnight Co,' was born literally out of our dreams. We'd both taken a break from our busy careers and were pregnant with our second and third babies. We were struggling to sleep and around this time we started digging into the benefits of sleeping on silk, we thought "Who doesn't love a goodnight sleep?" and started exploring the opportunities of getting beautiful products created to help crack this, but that also had a suitcase of proven benefits. Anything to minimise our beauty routines was worth it.
With our expanding families running around we took the scary steps and launched The Goodnight Co. early in 2015. We've just celebrated our first birthday, and we can't thank our lovely supporters enough for their belief in what we were trying to achieve. All in the name of combining beauty and getting a better nights sleep. 
There's no denying the benefits from putting your head to rest on silk and sucking up the goodness while you snooze and our products only use 100% mulberry silk – fit for a queen!  After a year, we've expanded from our signature silk pillowcases and eye masks to crystals, sleep serums and travel sets, so you can get the best nights sleep even if you're on the run. 
We hope you continue to share our dream journey. #thegoodnightco