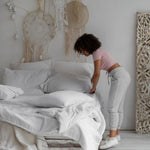 We are in peak summer and it's time for a revitalisation of your sleep space. Refreshing your mattress, and bed linen and overall tidying your bedroom creates balance, and relaxation resulting allows for a better night's sleep.
A relaxing environment is so important for quality sleep, but we often overlook our sleep space. We go to great lengths to improve our sleep but neglect the space we retreat to after a long, stressful day. Keeping our bedrooms clean and comfortable is essential for a good night's rest. 
Why a Clean Room Is Important for Better Sleep
Studies have shown that people sleep better in a clean, decluttered bedroom. A cluttered room can distract you at night from getting a good night's rest. Scientific research shows that we feel more refreshed and happier after decluttering our rooms. 
Improve air quality by dusting and vacuuming regularly.
Studies found a link between prolonged air pollution and sleep apnea. Clean and clear air helps you breathe better and reduces sleep disturbances. Dusting your room regularly and vacuuming (especially if you have a carpeted floor) gets rid of the dust particles and allergens that irritate the throat and eyes and cause coughing and sneezing. 
Improve your morning and your mood!
Look back on the times you woke up in a disorganised, messy room — you probably didn't think twice, but it does affect your mood right when you wake up. Waking up in a clean, fresh room can reduce stress and help kickstart your morning!
Clean your bed linen.
It is recommended to clean your sheets and pillowcases at least once a week in hot water. Our tip: after cleaning your sheets, spray our Sweet Dreams Mist onto your pillow or sheets to aid relaxation.
Clean your mattress and pillows.
Sprinkle baking soda over your mattress, and let it sit for at least 20 minutes. Re-vacuum your mattress. Use a damp sponge and a mild household cleaning solution to wipe down your mattress generously. Finish off with spraying your mattress with our Homemade Essential Oils Sanitiser Spray.
Invest in silk bedding.
Silk is naturally anti-absorbent and reduces moisture loss from your skin and hair. Our Silk Pillowcases are made from 100% Mulberry Silk that is naturally hypoallergenic and breathable, helping to regulate your body temperature —  so you get that perfect good night's sleep!
Create your sleep space.
Use soft lighting or a candle, a potted plant, or anything that you find aesthetically pleasing. Create a space so comfortable that you cannot wait to go to bed. Our Wave Diffuser & Essential Oils Kit creates instant tranquillity in your room, and the essential oils help you breathe easily and assist with sleep.