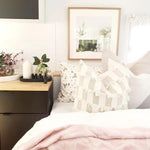 With Spring Cleaning in full swing, we chatted to interior stylist, Samantha Platt, for her top tips on how to style her TGC favourite, our Ceramic Diffuser, in every space in your home.  
"The beautiful matte finish of the diffusers make them easy to style in all rooms," she says, "Don't just limit styling your diffuser to the bathroom, living room or bedroom. The kitchen and your office are another place where diffusers can really help lift the aesthetic and mood of a room."
Read on for more tips below!
How to Style Your Diffuser For Every Room:
Colour.
The simplicity of white, grey and black suit all decorating styles from Simple Boho, Calming Coastal or Uber Chic New York style. 
For a Boho styling theme, use the simplicity and style of the white diffuser.
Calming Coastal can also benefit from white, but the grey will add a focal point and break up the abundance of white, creating mood and interest. This will also pick up on other modern Coastal features of stone and timbers, which contain both warm and cool greys. 
Black once again can make an appearance in the Calming Coastal interior as it will accent cabinetry handles and trim. Samantha's favourite New York style can carry all three colours, but the black will really pop when teamed with brass/gold accents, black and white interiors and bold jewel colours. 
Room.
Find the perfect placements for your diffusers throughout your home... The more the merrier.
The Sleep Space: Diffusers in the bedroom are everyone's go-to - think floating shelves, dressers and even side tables near occasional chairs for their placement.
The Living Space: Place your diffuser on sideboards, bookcases and wall units - they'll blend perfectly with other decorative pieces, even when not in use.
The Bathroom: Diffusers in bathrooms can be placed on vanities, but if you have a freestanding bath and a powerpoint nearby, consider placing the diffuser on a timber or marble side table to elevate your bath to the next level. 
The Kitchen: Samantha loves styling kitchens with diffusers. They introduce another design element and really soften the angular forms of the cabinetry in a kitchen. 
Styling.
Make your diffuser look extra photogenic with a few simple accessories.
Consider styling your diffuser on a tray or board in either the same colour, a contrasting colour, or even gold or brass.
Diffusers in kitchens can be placed on a decorative timber chopping board with your favourite vase of fresh herbs. 
Styling your diffuser with fresh flowers in varying vessels is another go to. Pick some flowers or just simple stems of greenery from your garden. You don't need fancy vases, just a few decorative jars that used to contain jam, pickles or even mustard make the perfect partners to hold your fresh blooms. 
Scent Your Whole Space.
Why limit yourself to one diffuser. Spread the beautiful, calming scents and aromas by having multiple diffusers set up in your different living zones, all drifting the same scent for continuity and ambience. 
Treat yourself (and your home!) - you know you want to. 
Shop our Ceramic Diffusers now.