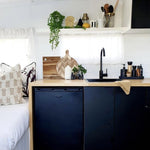 Samantha Platt, one of our TGC lovers, began caravaning in April and started looking for sleep solutions when she found she was struggling with sleep on the road. She shared with us her journey to sleep, and how TGC has helped her create better days, through better sleep, while on the move!
Read her story below!
Meet Samantha.
"Sleep is imperative to the way we look, feel, act and age. I have been acutely aware that I have not been receiving a restful and rejuvenated nights sleep in the last few years and more importantly, in the last month or so, which is why I reached out to The Goodnight Co. to help. 
I have only changed small things in my routine, but it does make a huge difference. A large part of my life before travelling involved a very physical job as a property stylist, and I started each morning with my beloved spin classes. Exercise was as much for my body as it was for my mind. I found it helped my ageing body stay flexible and agile, and lifted my mindset to take on the world and be the very best version of myself. I miss this part of having a fixed address - the routine. 
However, life on the road is more than I could have ever imagined. But I am not as physically active as I used to be and there have been so many artisan delights to over-indulge in. Working so hard all my life with multiple jobs and other commitments means that it took a few months of adjusting to slow down in retirement. I have now adjusted to my new life and I am no longer acting like an international tourist on a five day visa trying to see it all.
My Mornings:
My new morning routine starts with a healthy serve of fresh fruits, organic yoghurt and some granola. While preparing my breakfast, I love having my diffuser bubble away in the background with either my Morning or Calm Blend. 
As the van is a relatively small space, the essential oil scent fills it so beautifully and I really get to appreciate the full therapeutic effects. I spend time answering emails and checking in on Instagram before taking about 30 minutes to practice some mindful relaxation and stretching. The morning consists of a quick clean before heading out to explore the local area. I move every 3-4 days (when not in lockdown), so there is always a new place to explore. 
My Days:
Locations on the water are my favourite. Whether this be a river, a lake or the ocean, I don't really mind. They all hold their own special water properties, and being at one with water and listening to it trick, rush, swirl or break waves is my jam!
I love taking photographs and capturing animal encounters and with a more slow and deliberate lifestyle, I see beauty in the smallest things. 
My Nights:
There's not a huge nightlife while on the road, so dinner is usually just after the sun goes down and I have watched the sunset. Once again, I will have my diffuser on while preparing dinner and it continues well into my sleep routine. My silk pillow has become a favourite and I occasionally have to steal it from my husband, Herb. It's incredible how it feels on my skin and I have noticed a difference in the "bed head hair" in the mornings. 
I love that my TGC diffuser has a time and it simply turns off when it has worked through its water and essential oil cycle. 
Investing in my own health and wellbeing is no longer something I consider a luxury. Reaching out and making the conscious decision to look after both my physical and mental health is the greatest investment anyone can make in their own happiness and those around you. 
Travelling and a slower lifestyle makes me sweat the little stuff even less, but appreciate the simple things in life even more. I am so glad I took the time to invest in myself."
We love hearing your TGC stories and how we've helped you get a better nights sleep. Sleep well, be well.