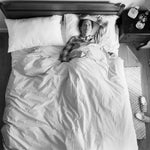 Written by our in house Clinical Naturopath, Jen Cox. 
You've made it to bed, check. You're comfortable, check. The temperature's good and nothing is more pressing right now than falling asleep – check, check. So why are you still awake? While difficulty falling asleep feels incredibly isolating, it is also increasingly common. With this in mind, The Goodnight Co. now have a Naturopathically curated pack specifically for your needs. Thank goodness.
A few of the reasons you struggle to fall asleep may be:
You're under stress.
One in 9 Australians report being highly stressed,which creates a chronically overstimulated nervous system that doesn't let up after business hours. Stress also causes anxiety and - while we're more stressed than ever - according this extensive report we're also terrible at managing it.  Unsurprisingly then, our bodies become stuck in what just so happens to be the exact opposite neurological state required for asleep. 
You're anxious or worried.
Anxiety disorders are the most common mental health issue in Australia. They both cause and result from sleep problems, creating a cyclical spiral of worry and fatigue. Beyond Blue found that a quarter of us battle anxiety. Please don't feel alone if you fall into this category, even when it might seem a magical dude from the North Pole is the only other soul making a list and checking it twice when they ought to be getting some z's.
Your diet or lifestyle is overstimulating.
Stress is not the only way to an overstimulated nervous system.  According to the clever brains at Harvard Health triggers like caffeine, sugar and processed foods are all likely to exacerbate anxiety. It just so happens that all of the above are more likely to be reached for when feeling stressed, which snowballs the problem.
What you can do:
These interconnected reasons have one thing in common: an overstimulated nervous system.  You might like to see them as three strands of a plait (or maybe the tangled dreadlock of your nightmares.) To address an overstimulated nervous system, this pack includes:
Calm Essential Oil Roll On
Loaded with hero ingredients a plenty, this blend of calming essential oils is specifically designed to reinstate nervous system balance. The impact from these ingredients is well documented and in some cases found to be just as effective as conventional medication at treating stress and anxiety, without side effects.
Sleep Mist
This aromatic room spray blend boasts well-known essential oils from our Goodnight Pure Essential Oil which soothe the nervous system before bed time. Spritz around your room before bed to transform your bedroom into a sleep sanctuary. 
Calm Drops
A glorious natural remedy specifically formulated for stress and sleep. This research found homeopathic treatment improves sleep quality in those suffering acute stress and anxiety, making it perfectly at home in this pack.
Lavender Sleep Ritual Bath Bomb
A divine ritual that's a triple threat.  Firstly, the ritual of bathing has been found to decrease the stress hormone cortisol. Next, this bath bomb contains magnesium for nervous system and adrenal function and third, there's lovely lavender (only the most popular and effective essential oil for insomnia caused by stress or anxiety).  Win, win, win.
Get your hands on this pack over here: 
Fall Asleep Faster Kit