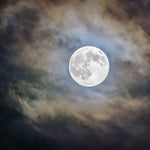 This Full Moon in Capricorn is unique in the sense that there is also a partial lunar eclipse, alongside some major celestial activity of five retrograde planets plus the asteroid Chiron.  What a powerful line up of impressive and significant influences. So how best do we prepare for this momentous occasion?
Full Moon 24 degrees Capricorn 17th July 2019
AEST Brisbane / Sydney / Melbourne @ 7.38am
AWST Perth 17th July @ 5.38am
UT London 16th July @ 10.38pm
EDT New York 16th July @ 5.38pm
PDT San Francisco 16th July @ 2.38pm
No doubt many of us become overwhelmed with recent heavenly events however, I will do my best to demystify the astrological vernacular.
A lunar eclipse always happens on a full moon. This phenomenon happens when the earth's shadow blocks the light of the Sun reaching the moon. The eclipse energy is exceptionally powerful and has the potential for intense metamorphosis ~ letting go of the past and emancipation from limiting elements in our life that are not inspiring or energising us. However, I do recommend resting during the actual eclipse event (no spell casting) and afterwards reflect on what you may want to release during the two-week waning period from the full moon to the dark/new moon on Thursday 1st August AEST.
A check in with yourself is always useful during these times of change ~ ask yourself what themes have been playing out since the eclipse from January 2019?  Has there been potent or significant events over the last six months? Spend some time reflecting on the last six months. Has there been unearthing of karmic contracts or strong heart-centred activations to follow your dreams – career, relationships, home, reason for existence? These themes will continue throughout this eclipse season till early 2020.
The moon relates to the feminine, mother, family, ancestral connections, soul essence, sense of belonging, emotional patterning, reaction, security & stability.  The sun represents our solar alchemy, passion, success, vitality and identity.
The Full Moon in Capricorn infuses an essence of resilience and composure into the instinctual body to accept challenges and trials in life in order to gain wisdom and insight. Capricorn governs ambition, success, failure, rejection, social reputation and status. Your place out in the world through your career or vocation. The key is to remain balanced between home and work responsibilities. Boundary setting is the overarching theme.
With all the current retrograde planets this year it is wise to spend time reflecting, resting, re-evaluating and releasing. 2020 is going to be dynamically charged so best get ready. 
Mercury Retrograde

till 1 August – The planet of communication. Review or revise ideas and products that need revamping. Intuition is allowed a free reign at this time.  Best keep logical decision making to a minimum until there is more clarity and focus after mid-August.
Jupiter Retrograde till 11

th

August – Time to reassess your philosophies and principles in life.   Discover a deeper meaning to your existence in this readjustment period.  A fabulous opportunity for self-growth and expansion once we are through August.  Reconnect with this amazing world.
Saturn Retrograde till 18

th

September – Reflect on your successes.  Where do you need to restructure your goals and life-long ambitions?  This is the planetary ruler of the Capricorn lunar eclipse on 17

th

July AEST so take it easy.  Remember patience is a virtue and don't be harsh on yourself.  Utilise this time to tie up all loose ends before beginning new projects.
Neptune Retrograde till 27

th

November – Spend time resting and meditating.   Rediscover those latent creative pastimes albeit through music, art, photography.  Recreate more magic in your life and harness this time to do inner soul work. Remember to take those ritual baths, immerse yourself in nature and most importantly be inspired!
Pluto Retrograde till 3

rd

October – The modern planetary ruler of Scorpio and the subconscious.  Time to release any toxic dynamics based around power play or control. Whatever has been hidden away may come up for deep healing. This existential process can be merciless, but it holds enormous potential for transformation.  Regeneration is paramount through this retrograde period.   
Chiron Retrograde till 14

th

December – The Wounded Healer.  Chiron holds the key to your psyche – your greatest gift of holistic wellness is hidden in the depths of your core wound.  This is an ideal opportunity to explore any resistance to becoming a self-actualised person – a combination of human and spirit reclaiming the lost pieces to reach your full potential.
Remember you still need to allow a few weeks or months before these planets are out of their shadow period.  Keeping in mind the themes over the coming period and prepare yourself the best you can.  
Retrograde periods hold the magical ingredients for reinvention of yourself.  You can discover more effective tools for engaging in life with enhanced joy, resilience and awareness.
With all these lunar elements at play, this is a great time for reflection and focusing inwards. Consistently getting a good night's sleep is important during these events but understandably can be challenging, especially for those who have difficulty falling asleep. This month's Moon Edit focuses on products to help support you through this time. 
Contributor
Mikailah is an astrologist, star witch and earth poet who embodies ancient practices in a contemporary form.  Her transpersonal work speaks to the artist, the creative, the free-spirited entrepreneur and the visionary. Mikailah offers a unique fusion of astrology and intuitive earth wisdom sessions by video call for our global community.
Find out more at https://www.starwitchastrology.com/