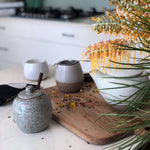 We spent some time with Co-Founder Shea Morrison to find out how her sleep ritual changes in winter, along with her best tips on how we can create our own.
I love my sleep rituals, and they often vary depending on the season. In winter, I like to walk around the house after dinner and start dimming or turning off lights to start to start calming everyone. I then try to have a warm bath or shower with candles and do my night-time beauty ritual to re-hydrate my skin. I like to have as much of a tech-free zone at night as possible (although my husband still watches TV). Instead, I retreat to my space with a Goodnight Tea to do some reading or a meditation. I like to try to be in bed ready for sleep between 9.30pm-10.00pm and dab my pulse points with some Goodnight Roll On and then pop on my eye mask. 
I like to have a tech free zone in the bedroom and leave all devices charging in the kitchen. With the interference of technology on our melatonin levels it is a great idea to minimise the amount of screen time (from mobiles and laptops, to TVs and tablets), in an ideal world we should be having no more than 24 hours of screen time a week (that's 3 hours a day). 
How does your sleep ritual change in summer?
In summer there's so much more light, which means I can include a grounding practice in the early evening with my children.  We take off our shoes and walk barefoot down our long dirt driveway and take time to look at all the animals getting ready for bed. We talk about the moon and sometimes get to see the first star of the night.  This practice helps to ground yourself on the earth and invites negative ions into our bodies helping lower cortisol levels, boost immunity and reduce inflammation and in turn preparing you for a great night's sleep.   
When creating your own winter sleep ritual, here are some ideas:
Try a warm evening bath, especially with a magnesium bath soak.
Magnesium helps promote a feeling of calm and relaxation. It also increases energy and reduces irritability. Magnesium bath salts can help improve your sleep and concentration. If you're short on time, or without a bath, a shower is a great relaxing alternative.
Creating a

tea ritual

after dinner
Brewing a hot pot of herbal teas including camomile can set you up for a great night sleep.
Dimming household lights and instead lighting candles
This not only creates a lovely environment but helps to send signals to the brain that it's time to wind down.
Find your perfect aromatherapy
There are so many benefits to aromatherapy (read more here) and so many ways to try it – from diffusing essential oils, using a roll on, or spraying some Sleep Mist.
Journaling
Jotting down all of your thoughts and worries before bed can be a great way to de-stress.
Gratitude
Consciously being grateful for 3 things that made you smile during the day.
Feeling restless?
Instead of tossing and turning, or picking up your phone – try a Tincture or Oral Magnesium Spray if you're having trouble winding down or waking before your alarm