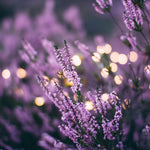 We're big fans of aromatherapy here at The Goodnight Co., and for good reason. Not only do essential oils smell great – they're also good for you too. But if you haven't used essential oils before, it can be a little daunting knowing where to start, so we've put together this Aromatherapy 101 guide for you to become a pro in no time.
What is aromatherapy?
Aromatherapy isn't a new thing. In fact, it's been around for more than 5000 years. Aromatherapy is the use of essential oils and other plant aromatics to bring about physiological and emotional changes. 
How do you use essential oils?
There are many different ways to use essential oils, but one of the most popular methods is by using a few drops in a Oil Diffuser. When it comes to diffusers, you can opt for one that heats up the oil with a candle, or a much safer option is an electric oil diffuser like this one. 
But diffusers aren't the only method for aromatherapy. Other common ways to use essential oils include adding a few drops to your bath, using an essential oil infused body moisturiser, or even adding food-grade essential oils to food (but this is something you should only do in consultation with an experienced practitioner).
What is it good for?
The beauty of working with essential oils is that there is a range of illnesses and conditions it can be used to treat, from insomnia to headaches. Here are the benefits of some of our favourite essential oils:
| | |
| --- | --- |
| Essential oil | Benefit |
| Bergamot | Improves mood, aids in relaxation, relieves spasms |
| Cedarwood | Helps cure coughs and colds, kills insects, sedates inflammation and nervous disturbances |
| Chamomile | Calms the skin, mind, and body, soothes the systems of the body |
| Fennel | Promotes healthy digestion, supports a healthy respiratory system and quashes sweet tooth cravings |
| Geranium | Promotes the appearance of clear healthy skin, has a calming effect when diffused |
| Lavender | Aids in relaxation of central nervous system, alleviates headaches, improves sleep quality, promotes better concentration |
| Mandarin | Reduces pain, anxiety, nausea and insomnia |
| Petitgrain | Helps ease feelings of tension and calm the nervous system, promotes restful sleep |
| Pink grapefruit | Uplifts mood |
| Rosemary | Supports healthy digestion and respiratory function, helps reduce nervous tension and occasional fatigue |
| Sandalwood | Promotes emotional well-being by dissipating tense feelings |
| Spearmint | Promotes a sense of focus and uplifts mood |
| Sweet orange | Alleviates anxiety, anger and depression |
Keen to give aromatherapy a try at home? Check out The Goodnight Co.'s range of essential oil blends, roll-ons, mists and diffusers here.