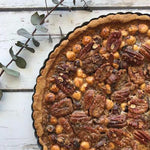 Looking for the star of the show for your Christmas feast? Go no further than this epic Sticky Pecan Hazelnut Tart by Alexx Stuart from Low Tox Life. We recently caught up with Alexx to get the low down on her low tox sleep routine, which you can read more of here.
We're so excited to share her take on pecan pie with you. This recipe comes from her brand new ebook: Celebrate – Your low tox entertaining guide & recipe book, which is packed with awesome recipes, tips for entertaining, gift ideas, floral inspiration and more. It's basically our new go-to entertaining guide, whether it be for Christmas or birthday.
Alexx says:
This gluten free, fructose free, casein and lactose free beauty is an adaptation of that classic, uber sweet sticky pecan tart that we've all surely enjoyed in the past? Being gluten free isn't an affliction and there's no way we're missing out on the smell of pastry in an oven or the caramelisation of nuts bubbling away in a tart like this. No siree!
Sticky Pecan Hazelnut Tart
Serves 8-10
Ingredients
For the pastry:
1 1/4 cup tapioca flour (120g)
1/3 cup almond meal (30g)
2 heaped tsp coconut flour (20g)
1/2 cup buckwheat flour (plus a little more for dusting your hands when pressing out the pastry into the tart shell) (45g)
140 g butter
1 whole egg whisked with the vanilla in it
1 tsp cinnamon
1 pod vanilla or 2 tsp vanilla extract
2 tbsp rice malt syrup (fructose free) OR maple syrup OR honey
For the filling:
1.5 cups pecans (170g)
1 cup hazelnuts (120g)
6 whole egg yolks
120 g coconut oil or ghee (or butter if not intolerant)
100 g coconut cream
160 g rice malt syrup (1 cup) / OR honey or maple syrup
1 pinch ground cloves
1 pinch nutmeg
1 tsp cinnamon
Method
For the pastry:
Pop all your flours in your food processor or thermomix and pulse to combine and aerate.

Add your super chilled 'fats' of choice.

Whisk your egg, vanilla and syrup together.

Add about 2/3 of this mixture slowly over 3-4 seconds into the processor. Has it gone to clumps? You're done. Has it not? Add a tiny bit more.

Save the leftovers of this mixture for a batch of French toast!

Spatula out onto unbleached parchment paper and shape into a ball and pop in fridge for 30 minutes to make it more workable.

Preheat oven to 180C / 350F fan forced OR 200C / 400F non fan forced oven.

While the pastry is resting, pop all the nuts onto a baking tray and roast for 10 minutes in the oven. If you're using activated nuts, no need to do this step, but if they're plain, raw nuts, this is crucial. Take out and let cool as you work on other things.

Now, line your quiche / tart tin with coconut oil or butter and then dust with buckwheat flour and shake off excess. This will help you when it comes to dislodging the tart later on!

Plop your pastry blob into the tin and dust your hands with buckwheat to avoid sticking and start working the pastry to all the corners evenly to about 1/2 cm thick all round. Any excess – make a couple of short bread cookies out of it while you're blind baking the base!

Now, place parchment on top and weigh it down with raw beans, rice grains or pastry weights and blind bake in the oven for 10 minutes with the weights in, and a further 5 minutes without – this will mean your base isn't soggy for the finished product later.

Now, take the pastry shell out when you've just noticed a little bit of light golden action around the edges – This will mean you won't have burnt ones later.
For the filling:
Warm the syrup / honey, butter / ghee / coconut oil, cream and spices until all well combined.

Whisk egg yolks and pour very slowly your liquid mix (step 1) into the yolks, while continuing to whisk to avoid the yolk cooking.

Place the hazelnuts into the pastry shell, naked!

Then pour your liquid over the top, leaving back 100ml liquid to go over the pecans afterwards.

Now, layer your pecans over the top in whatever pretty pattern you fancy.

Now drizzle the rest of the mixture over the pecans (keep a little back if it's going to overflow. We don't want that, and everyone's quiche / tart tins are going to vary a little here)

OPTIONAL: Sprinkle a little coconut sugar over the top of your tart. Not necessary, but will create a nice crust over the top. So.. why wouldn't you?

Now bake everything together in the oven for 30 minutes until well caramelised and pastry is a deep golden brown.

Remove from the oven and cool.

Then, to dislodge safely without ruining the corner bits of the tart slide the knife to the corners of the underside of the base (if you have a removable base) and apply a little pressure up, and do that to all 4 corners before pressing from the centre.

Serve with double cream or coconut cream. Heaven!
TIP: This pastry doubles as a delicious shortbread biscuit – just roll little balls once chilled and press down onto parchment paper with a fork to flatten and bake for 15-20 minutes on 200C / 400F or until golden. Delicious with a cup of tea!
Browse more of our Sleep Eats recipes to nourish your body and rest easy.