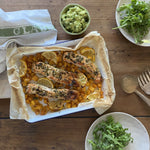 Sleep and immunity go hand in hand, without a good night's rest, your immune system can really suffer. Lee Holmes, nutritionist, chef and author of cook book Heal Your Gut is big advocate for sleep and immunity, just like us. 
"A good sleep can help build your immunity and conversely, it can also have the opposite effect, draining your immune system by running yourself to the limit.  Having a susceptible immune system can also keep you lying awake at night." Lee says. 
A sleep-promoting diet doesn't need to be boring, it is often rich and varied in fruits, vegetables and whole grains as well as lean proteins.  
"By just introducing a few simple, helpful habits can make the world of difference to the way you sleep and the length and depth of your sleep. Eating the right foods at the right time such as having dinner earlier in the evening, will also go a long way to improving your sleep, and your digestion!" Lee says. 
Stuck for ideas? Lee shared her favourite, immunity boosting, sleep friendly recipe for our community to try! 
Tray Baked Salmon with Pumpkin and Avocado Mash 
Serves 3  
Ingredients 
1 butternut pumpkin chopped into small cubes
1 tsp cinnamon 
3 tbs extra virgin olive oil  
3 salmon fillets skin on 
1 TBS chopped fresh parsley (great for sleep!) 
1 tsp cumin (great for insomnia!) 
2 garlic cloves, chopped 
1 TBS sesame seeds 
1 TBS lemon zest 
1 TBS lemon juice
3 lemon slices, halved
Pinch sea salt and black pepper  
Large handful of rocket (To serve) 
Avocado Mash 
1 avocado, diced into cubes 
2 TBS coriander, chopped 
2 TBS  parsley, chopped 
2 TBS extra virgin olive oil 
2 TBS lemon juice 
Pinch sea salt  
Method 
 Preheat oven to 220 degrees Celsius 
Place baking paper on a baking sheet and add pumpkin 
Splosh on 1 TBS olive oil, then sprinkle with cinnamon 
Roast for 15 minutes 
In the meantime place parsley, cumin, garlic, sesame seeds, lemon zest and 2 TBS lemon juice, 2 TBS olive oil and salt and pepper in a bowl and mix to blend, place blend over salmon fillets, rubbing it in to stay put
Remove tray from the oven, add the salmon fillets, and lemon slices into the tray with the pumpkin.  Return to the oven for 10-15 minutes until salmon is cooked to your liking 
Whilst the salmon is cooking make the mash by combining all of the ingredients into a bowl and smashing with a fork 
Once the salmon is cooked,  serve with rocket and avocado mash