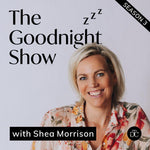 If sleep were easy, we would all do it, yes? But we don't – not successfully. At least one third of Australians have difficulty sleeping to the extent it impacts their daily lives. There are many reasons this may be, although if you thought sleep was as simple as doing it or not, you would be wrong.  
Follow along during this episode, as Shea talks through the complexities of what actually happens during each stage of our sleep cycle - did you know we had 5?!
Listen now:
Links we talked about:
If you want to get you sleep health routine on track, we are offering our podcast listeners 50% off our online guide, 10 steps for 10 days. This eBook is the ultimate guide for those who need to reclaim their sleep and reclaim your best life possible. Use the code 'PODCAST' at checkout to get this guide for $5 and start your 10 day routine now.