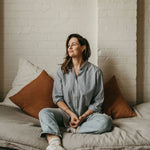 Life is busy, whether it's motherhood, business, school, friends, family, a busy workload - there is always something that might keep your mind racing. This week on the podcast, Shea speaks to Meditation Coach, business owner and mother, Claire Robbie.
They deep dive into the positive impact that a regular meditation practice can have on your physical, emotional and spiritual wellness. They discuss regulating your nervous system and slowing down each day through intentional and mindful choices. Claire talks about how we accumulate stress throughout the day, and without finding ways to slow down and remove this stress...there are going to be ongoing negative impacts to your sleep.
In todays society that is filled with hustle culture and a "go go go" mentality, this is an episode not to be missed, especially if you're craving the ability to slow down and be more present within your day. Find Claire Robbie on Insta: @clairerobbie.
She is also the Director of The School of Modern Meditation: @wearesomm_
and the Creator of We Are The Wagon: @nobeerswhocares
Where to listen to this episode?