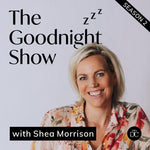 "Why can't I sleep?" With almost half of all Australians sleeping poorly or not at all, according to research by the Sleep Health Foundation, it's a question we seem to be asking ourselves a lot! 
If you're tired of waking up more tired than when you went to bed, and it seems like the last time you had a good night's sleep is a distant memory, then the chances are it's because of something you're doing (or even something you're not doing). Follow along as Shea unpacks the 5 common reasons for a bad night's sleep!
Listen now:
Links we talked about:
If you want to get you sleep health routine on track, we are offering our podcast listeners 50% off our online guide, 10 steps for 10 days. This eBook is the ultimate guide for those who need to reclaim their sleep and reclaim your best life possible. Use the code 'PODCAST' at checkout to get this guide for $5 and start your 10 day routine now.