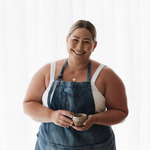 With over 20 years experience in the traditional beauty industry, Nat has seen everything the industry has to offer. Now she dedicates her day to giving back to her clients by creating an experience which promotes kind beauty at her salon Kindred Toxin Free Facials in Bulimba - after experiencing Nat's facials, Shea knows first hand that this experience is like no other. In this episode, Shea and Nat talk about the importance of a routine and the role reduced toxin exposure plays on strengthening your immune system and inner wellness - including the importance of sleep for cell recovery.
Tune in to find out!
Links we talked about:
If you want to get you sleep health routine on track, we are offering our podcast listeners 50% off our online guide, 10 steps for 10 days. This eBook is the ultimate guide for those who need to reclaim their sleep and reclaim your best life possible. Use the code 'PODCAST' at checkout to get this guide for $5 and start your 10 day routine now.