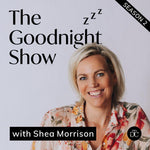 The silly season is approaching fast, and that means delicious foods, flowing drinks, and lots of laughs! While there's nothing better than enjoying time off with family, friends and loved ones, we shouldn't totally neglect our wellbeing or our sleep.
Yes, the holiday's may mean more sleep-in's, but this doesn't necessarily make for a better quality of sleep. Follow along as Shea unpacks her key tips for staying ahead this festive season and staying well rested whilst not missing out on the fun!
Listen now:
Links we talked about:
If you want to get you sleep health routine on track, we are offering our podcast listeners 50% off our online guide, 10 steps for 10 days. This eBook is the ultimate guide for those who need to reclaim their sleep and reclaim your best life possible. Use the code 'PODCAST' at checkout to get this guide for $5 and start your 10 day routine now.