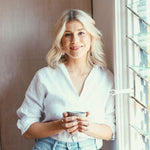 After realising that the mainstream beauty industry she was working in did not align with her conscious way of living, Monique (now known as The Beauty Journal), dove deep into the world of clean Beauty and hasn't looked back. Since falling pregnancy, and entering her third trimester at the time of recording, Monique's journey through Natural and Clean Beauty has stood the test of time. Join us in today's episode as we talk to Monique about her journey to a toxin free lifestyle and how sleep has become a key fundamental to her health and well-being through her pregnancy.
Tune in to find out!
Links we talked about:
If you want to get you sleep health routine on track, we are offering our podcast listeners 50% off our online guide, 10 steps for 10 days. This eBook is the ultimate guide for those who need to reclaim their sleep and reclaim your best life possible. Use the code 'PODCAST' at checkout to get this guide for $5 and start your 10 day routine now.