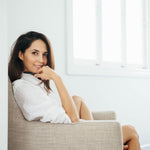 Zoe's journey to sleep began 9 years ago, when she first began sleeping separate to her husband Benji. After being aware of the effects of stimulants on her body, she put all of her energy into working on her sleep, for herself and for her family. Today, sleep has become Zoe's superpower and #1 pillar, allowing her to be her best self and live her life to the fullest. 
Shea and Zoe sit down and talk about everything from what made Zoe take those first steps towards bettering her sleep health, but how she has also continued to support her sleep journey by personalising her relationship and parenting routines. Zoe also shares her tips for people who are beginning their sleep journey, including eliminating stimulants, creating a safe sleep safe sanctuary and investing in your individual routine and commit to it. Do things everyday to show yourself you love yourself and you are worthy, and it begins with giving yourself the rest your body deserves. 
Tune in to find out!
Things we talked about:
Magnesium Spray
Limiting EMF's in the bedroom
Leaving phone outside of the bedroom
Links to Zoe:
If you want to get you sleep health routine on track, we are offering our podcast listeners 50% off our online guide, 10 steps for 10 days. This eBook is the ultimate guide for those who need to reclaim their sleep and reclaim your best life possible. Use the code 'PODCAST' at checkout to get this guide for $5 and start your 10 day routine now.