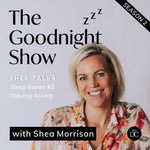 Welcome back to The Goodnight Show and welcome back to the second Shea Talks episode of Season Two where we are in the middle of our 3 sleep series. 
We previously talked about why you might not be falling asleep at night in our first episode and in this episode, we're diving into what might be keeping you from getting a full nights sleep – completely uninterrupted.
If you haven't listened to the first episode about falling to sleep, I recommend you going back and listening from the beginning, and then join us afterwards to make the most out of this sleep series.
Listen now:
Links we talked about:
If you want to get you sleep health routine on track, we are offering our podcast listeners 50% off our online guide, 10 steps for 10 days. This eBook is the ultimate guide for those who need to reclaim their sleep and reclaim your best life possible. Use the code 'PODCAST' at checkout to get this guide for $5 and start your 10 day routine now.