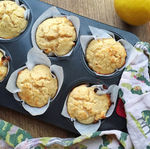 Looking for an afternoon treat or spot of dessert?
These delightfully zesty muffins come from Meg Yonson, a qualified nutritionist who has crafted delicious recipes for the likes of I Quit Sugar and Hello Fresh.
These lemon yogurt muffins not only taste great, but may even help you sleep. Yogurt contains tryptophan, an amino acid the body uses to produce melatonin and serotonin helping to induce sleep. These muffins are also super low in sugar and are loaded with protein, filling you up without the sugar high before bed. Plus, the yogurt and lemon will help relieve any digestive issue from a heavy dinner.
Check out Meg's blog for more wonderful recipes.
Lemon Yoghurt Muffins
Makes 6 muffins
Ingredients
¼ cup full-fat natural yoghurt
¼ cup coconut oil, softened
1 medium egg
1 tsp vanilla essence (or ¼ tsp of vanilla powder)
1 tbs good-quality honey
1 lemon, juice and zest
1 cup rice flour
½ cup oat flour (You can make this by quickly grinding whole oats in your blender or food processor)
1 tsp baking powder
¼ tsp baking soda
Method
Preheat oven to 180ºC/350ºF/Gas Mark 4 and grease or line six holes in a muffin tin with baking paper.
In a mixing bowl, whisk together the yoghurt, coconut oil, egg, vanilla, honey and lemon juice and zest. Fold through the dry ingredients.
Fill the muffin holes with the mixture and place in the oven. Bake for 15 minutes, until cupcakes spring back when you touch the tops. Remove from the oven and allow to cool slightly, devour as quickly as possible!
Browse our Sleep Eats recipes to nourish your body and rest easy.