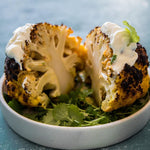 It's no secret, we're huge fans of keeping our immunity fighting fit over the colder months. Someone who also shares our love for immunity boosting recipes is chef, Guy Turland.
Guy believes that cooking wholesome, seasonal, nutrient and vitamin dense food and knowing how to calm down after a stressful day is super important in supporting and maintaining a healthy immune system and sleep pattern.
Guy was kind enough to share his favourite Turmeric Roasted Cauliflower recipe with our community to show how easy, and delicious, healthy eating can be. 
Ingredients:
1 whole cauliflower

1 tbsp turmeric

1 tbsp Smoky Paprika

1 Tsp cayenne pepper

1/4 cup of olive oil

good pinch of salt

1 orange

garnish with natural yoghurt and coriander
Method:
Mix together all your spices, salt, olive oil, and orange zest into a glaze.

Slice the orange into 1 cm discs and lay them in the below or your oven proof pot.

Place the cauliflower on top of the orange slices and spoon glaze over the cauliflower. Making sure the entire cauliflower head is covered.

Cover the pot with a lid or foil and place in the oven at 200C for 20 twenty minutes. Uncover and cook for another twenty minutes.
For more sleep friendly recipes, head to The Journal. For more ways to boost your immunity this winter, head to our Immunity collection.