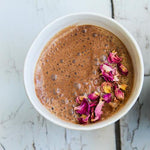 Think hot chocolates are all marshmallows and sugar overload? Not anymore! Our friend Steph from The Remedy Kitchen has revamped the hot cocoa you know and love, and transformed it into a soothing and restorative drink – 100% approved as a pre-bed treat. The secret to this hot chocolate is all in the ingredients: swapping cacao for carob (to skip the caffeine hit) and including collagen powder (for restful sleep).
Steph says:
Adding collagen to your diet (as I have in this recipe) is incredibly beneficial to your health. Collagen is helpful for protecting joints, supporting insulin regulation and, most importantly, improving your quality of sleep! How so? The amino acid glycine, which is abundant in collagen, has been shown in several studies to help improve sleep through mediation of excitatory and inhibitory neurotransmission. In two high-quality studies, participants took 3 grams of glycine before bed and experienced significantly improved sleep quality, had an easier time falling asleep and were less tired the following day. Perfect!

Sleepy Time Rose Hot Chocolate
(vegan, paleo, ketogenic)

Makes 1 (double quantities for 2 people)

Ingredients

1 cup coconut milk (or almond or any milk your like)
2 tsp collagen hydrolysate powder
1/2 tsp rose water 
3 tsp maple syrup (or liquid stevia if you prefer)
1/2 tsp ground cinnamon
1 tbs carob powder (you can use raw cacao powder but it is caffeinated. So no sleep for you!)

Method
Combine all of the ingredients in a small saucepan. Bring the mixture to the boil and then reduce to a simmer, continue stirring until the carob is combined.

Tip: Whack the mixture into a blender prior to heating for a smooth, velvety texture. Serve and top with some fresh rose petals, if you like.