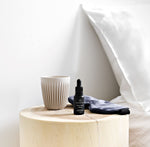 Warmer days and brighter mornings are here to stay, so what better time to Spring Clean your sleep space! A tidy and fresh sleep space ensures a better night's sleep. So here are our sleep spring tips to clean up and help you rise and truly shine every single day!
1. Declutter
Declutter your sleep space, put away clothes, towels and items not in use, everything should have a dedicated spot. Decluttering also means removing any technology in the bedroom, screens and devices in your sleep space is a big no-no!
2. Check you Pillow expiry
Did you know your pillow should be changed every 18-24 months? Most pillows will have an expiration date printed, check and if yours is our of date it's time for a new one. If there is no expiry, check if your pillow is lumpy, smelly, saggy and has any stains. If yes to any of these, it's time for a new pillow
3. Air out your mattress
Strip the sheets, dust on bi-carb soda and vacuum and move into the sun to kill bacteria. Under normal conditions, mattresses should be replaced every 6 to 8 years. Of course, this is a general guideline and not a one-size-fits-all.
4. Refresh Your Bedlinen
We love breathable, hypoallergenic silk pillowcases (any excuse for new linen, right?) 
5. Choose a Spring Scent
Our picks for Spring, we love the Good Morning blend - Made from the perfect combination of eucalyptus, lemongrass and peppermint, this blend essential oil is created to be therapeutic, uplifting and revitalising. We also love the Calm - Featuring aromas of mandarin, cedarwood, and lemon, our Calm blend will help you to stay calm and lift your spirits during testing times.
Shop our spring clean checklist below: