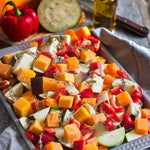 By Co-Founder Shea Morrison
While animals hibernate for the winter to help maintain their body temperature (something we humans aren't genetically equipped to do), we can learn from this seasonal cycle that occurs in nature. Traditional Chinese Medicine encourages us to live in harmony with the five seasons – winter, spring, summer, late summer and autumn. Winter in Chinese Medicine represents Yin, a dark, slow, cold and inward energy cycle. You may naturally observe that winter is a time of turning inward and reflecting on self. As the days get shorter, you may feel like going to bed earlier and sleeping later as your body signals to you its need to repair and heal.

A cozy and comforting season like winter may also present the perfect time to teach your body to sleep if you've had sleep struggles in the past, and this recipe is great to have as a meal or with any choice of protein. I love it for it's sleep
inducing benefits, Kale is full of calcium which is a natural sleep aid. Calcium contains tryptophan, the amino acid that your body uses to create melatonin – a hormone that helps induce sleep. Sweet potatoes are also loaded with the carbs your brain needs to make sleep-inducing serotonin. If you are looking to add a protein like salmon, tuna or chicken you will also get a boost of Vitamin B6 which is helps convert tryptophan to melatonin. A deficiency in B6 has been linked with lowered serotonin levels and poor sleep.

The reason I love this recipe is that it is so simple and easy! I am including vegetables that I usually use and have in my fridge but you can really use any. I like to try to use vegetables in season so this is what it looks like for me at the moment:
Ingredients
1 medium sweet potato (sometimes I use a separate roasting pan just for the sweet potato – they stay a bit crispier by doing this)
Half a bunch of Kale cut roughly
1 red onion cut into chunks (brown onion or leek would be fine too)
1 – 2 cloves garlic chopped finely
1 carrot (I like to use the purple ones sometimes) chopped
1 zucchini chopped
1 parsnip
½ red capsicum cut into cubes
1 Beetroot peeled and chopped into small chunks
1 – 2 tsp organic ground turmeric
Salt and Pepper
Method
Preheat oven 180 degrees Celsius
Drizzle olive oil or coconut oil in the base of roasting pan (I generally try to keep all of the vegetables a similar size so they cook evenly).
Combine all of the vegetables except for the Kale in the roasting pan (separate roasting pan for the sweet potato if you want them to be a bit crispier).
Sprinkle the ground turmeric on the veges and bake for 30 minutes and then add the Kale for the last 10 minutes. 
Best served all together in a white bowl - the rainbow colours make it look so yummy!


For more recipes and advice, visit Shea Morrison at https://www.sheamorrison.com/