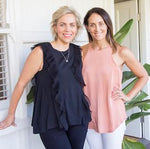 "She taught me that fear is not an option" Dianne Von Furstenburg on her Mom
 It goes without saying that being a Mum is one of the hardest, most rewarding jobs to have, we are forever grateful for all the hard work and sacrifices that our Mum's have made for us.
As Mothers to our own young children, we truly appreciate all that our Mum's have done for us.  It is with their love, support and guidance that have shaped us in to the women and Mother's we are.  It's not until you have your own children that you fully realise all that your Mum has done for you!
On Mother's Day it is a special opportunity to thank the amazing women in our lives.  For us as Mother's, is a time to be showered in thanks, kisses and cuddles from our own children.  It's the little things that make our day special, hand made cards, breakfast in bed and for that one day when your children try angles (short lived, but the intent is there).
So on this Mother's Day we want to say to our Mum's Robyn and Sandra "THANK YOU Mum", "WE LOVE YOU!" and "WE APPRECIATE ALL THAT YOU DO".  Wishing all Mum's a very special and happy Mother's Day!
Danielle & Shea
xx