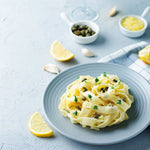 Created by Nutritionist & Herbalist, Jessica Hoskins from Sage & Folk, this recipe features sardines, pine nuts and capers. Yup, sardines, you read it right but don't look away! 
Sardines are often underrated but happen to be one of the healthiest and nutrient dense foods around!
Eating fish at least once a week has been shown to improve sleep, and this is particularly true for the humble sardine. They contain great amounts of omega-3 fatty acids, in particular DHA (docosahexaenoic acid) which has been shown to regulate the production of sleep-inducing prostaglandins and melatonin.
They also contain Vitamin D, and are a good source of B6, a nutrient needed for the conversion of the amino acid tryptophan to melatonin (the sleep hormone).
Of course if you told me that you didn't really like sardines, you would not be in the minority. Over the years I have discovered many ways to make sardines as delicious as possible so that my clients would oblige to my request to increase this particular food. Here is the recipe that never seems to fail:
Pasta with sardines, pine nuts and capers
Servings: 5
Cooking time: 20 minutes

Ingredients
Sea salt
¼

 cup extra virgin olive oil

1 onion, chopped

Freshly ground black pepper

300g pasta (Jessica recommend a gluten-free pasta, such as quinoa and rice spaghetti)

1 large 

zucchini, cut into spaghetti size strips with a spiraliser or julienne peeler
1 teaspoon grated lemon zest
2 teaspoons drained capers
2 cans sustainably caught sardines in olive oil
½ cup of lightly toasted pine nuts, chopped

½ cup chopped fresh parsley, plus more for garnish
 
Method 
Bring a large pot of filtered water with salt to a boil.

Put 2 tablespoons of olive oil in a medium sized pan on a low heat. 

Once the pan is hot, add the onion, season with salt and pepper, and cook, stirring occasionally, until softened, about 5 minutes.

Meanwhile, add the pasta to the boiling water and cook until just tender; drain, reserving some of the cooking liquid.

Turn the heat of the pan to medium and add the lemon zest, capers and sardines; cook, stirring occasionally, until just heated through, about 2 minutes.

Add the pasta, zucchini and remaining olive oil to the sardine mixture and toss well to combine. Add the parsley, most of the pine nuts. Add a little water to moisten if needed.

Taste and adjust seasoning, garnishing with more parsley and pine nuts.

Serve with a green garden salad.
* The pasta in this recipe can be completely replaced by adding another 2 large zucchinis
Based in Byron Bay, Jessica is a clinical nutritionist and herbalist, with a focus on the health of women, especially mothers and children. As a mother of two and accredited health practitioner, she has wealth of knowledge and experience in all things nutrition, including creating beautiful recipes. 
Find out more about Jessica's consultancy or book an online appointment here. You can also find more bedtime friendly recipes here.