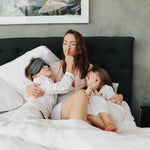 In 2020, the celebration of Mother's Day will look a little different for many with the uncertainty of CO-VID19… For a lot of us, we won't be able to celebrate in-person with our Mums, however, we can certainly show our love and appreciation in other ways. 
In wondering what this year's celebration might look like, we took this opportunity to look back on some history and first celebration of Mother's Day - and were inspired by what we learnt. 
10 Mother's Day facts to reflect on ahead of celebrating this Mother's Day.
More phone calls are made on Mother's Day than any other day of the year – approximately 122 million calls are made on the second Sunday of May.

Mother's Day is the third highest selling holiday for flowers and plants – approximately one quarter of all the flowers purchased throughout the year are bought for Mother's Day.

One of the earliest Mother's Day celebrations was in Ancient Greece – The Greek would have spring celebrations in honor of Rhea, the goddess of fertility, motherhood, and generation.

The history of American Mother's Day starts with peacemaker Ann Jarvis – During and following the Civil War, Ann Jarvis made a concerted effort to foster friendship and community between the mothers on both sides of war. She started a committee in 1868 which established the first glimmer of Mother's Friendship Day.' Ann's daughter Anna continued her legacy by creating the first American Mother's Day in 1908.

Anna Jarvis would later try to stop what Mother's Day had become – the holiday quickly became a commercialised opportunity for producers to sell flowers, candies, and cards. Anna Reeves Jarvis felt this was detracting from the personal and intimate aspects of the holiday and defied this by starting boycotts, and even condemned first lady Elanor Roosevelt for using the day as a means of fundraising. 

The most popular gift for Mother's Day is the greeting card.

Mother's Day is celebrated all over the world – albeit on different days, most countries all have designated celebrations to honour their country's mothers.

Some countries still observe ancient festivals honouring mothers – in India, people celebrate Durga-puja, a festival that pays homage to the mother goddess, Durga. The festival is a ten-day event that takes place around September or October.

Can you say mother in any other languages? Mother is

Mere

in French,

Mutter

in German,

Madre

in Italian and

Matka

in Polish.

The highest number of children born to one mother was to a woman who lived in sixteenth-century Russia. She had 69 children with her husband Feodor Vassilyev. They included sixteen pairs of twins, seven sets of triplets and four sets of quadruplets!
With this year looking a little different, we wanted to be able to support you in how you can celebrate the loved mums in your lives - your mums, grandmothers, great-grandmothers, aunts, sisters, wives, sisters, friends, cousins, and the gift of sleep might be the perfect option. 
If we know anything, it's that Mums are always grateful for the gift of sleep. So if you're in need of some inspiration for Mother's Day, take some expert advice from our Co-Founders, Shea & Danielle with the gifts they're planning to give their mothers—or hoping to receive that special Sunday. They carefully curated our new limited edition Mother's Day Kit which will delight, distract and support your loved one during this time, or head to our Mother's Day Gift Guide for even more inspiration.