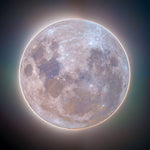 Dive deep into the magnificence of this luscious full moon as the light has reached its zenith for the lunar month.   
The Full Moon in Taurus is renowned for empowerment through practical sustainability, emotional fulfilment and the depth of true joy that can be found in all of our pleasurable earthly experiences.   
Full Moon Taurus 19 degrees
AEST Brisbane 12th November @ 11:34pm
ADST Sydney / Melbourne 13th November @ 0:34am
AWST Perth 12th November @ 9:34pm
UT London 12th November @ 1:34pm
EST New York 12th November @ 8:34am
PST San Francisco 12th November @ 5:34am
In the Southern Hemisphere, we are celebrating the ancient festival of Beltaine.  This marks the turning of the year as we move into the summer months.  A playful time to engage in festivities - to celebrate with good friends and be light-hearted.  Remember to dance, play music and enjoy all of our seasonal abundance with gratitude.
Venus, the planetary rule of Taurus is activated in the mutable fire sign of Sagittarius.  Harness this celestial energy to express and share your heart-felt needs and aspirations in relationship with yourself and others.  
Aim your arrow for the stars and beyond.  
Create a vision board and journal your affirmations as to what you wish to manifest for your future.  Venus governs self-love, beauty, business, partnerships, finances and creative prosperity. 
Throughout all of this revelry, there is also an element of intense emotions brewing beneath the surface with our lunar moon forming a harmonious trine to Saturn (accountability) and Pluto (transformation).  Major key players in earth signs that want us to focus on our purpose out in the world through inspirited service and work.
Mercury in Scorpio is magnetically drawing us into the underworld to face the depths of our intuitive world.  There is a warning sign to proceed with all your wits engaged and observe situations first before speaking as Mercury rules communication.  This is not the time to be angry or hostile in responses or engagements.  Sometimes words do not do justice for the depths of emotions that lay beneath the surface.  The enigmatic trickster will still keep revealing as we are in a mercury retrograde period till 21st November.
Great revelations will come after this date as we will get to the bottom with inquisitive perception. At the end of the day indulge in a sensual bath with rose petals, magnesium salts and essential oils to avoid over-stimulation or exhaustion. 
This is the perfect full moon to invest in bodywork sessions to relax the body and calm the mind.  Surround yourself with nature to stay grounded, centred and connected this week.  Spend time in the garden with your bare hands or walking barefoot by the ocean if you can.
Support your sleep this lunar cycle with a special selection of products in The Moon Edit.
Taurus is the bountiful Earth Mother of the zodiac!
The key is to find balance with the Taurus/Scorpio polarity by creating a peaceful existence with ourselves and our world.
See you next lunar month for the earthy Full Moon in Gemini….
Mikailah is an astrologist, star witch and earth poet who embodies ancient practices in a contemporary form.  Her transpersonal work speaks to the artist, the creative, the free-spirited entrepreneur and the visionary.  Mikailah offers a unique fusion of astrology by video call for our global community.
Find out more at https://www.starwitchastrology.com/work-with-me/