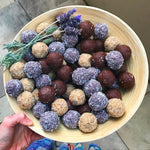 The wonderful Jordanna Levin is back with one of her favourite recipes: Her lunar-inspired lavender bliss balls. These will not only satisfy your sweet tooth, but the lavender helps calm and relax you before bed.
Lavender, Blueberry & Coconut Bliss Balls
Ingredients
1 cup of medjool dates, pitted

1 1/2 cups of blanched almond meal

1 cup of desiccated coconut, plus extra for rolling

1/4 cup of blueberry powder (Jordanna uses Blackmores)

2 tablespoon coconut oil

2-4 drops of food-grade lavender essential oil
Method
Place the dates in a food processor and process until they form a paste.

Add the almond meal, coconut and blueberry powder and process until mixture becomes crumbly.

Add the coconut oil and process until the mixture becomes a rollable texture. Test it with your fingers. If it's too dry add extra coconut oil. If it's too wet and oily add extra almond meal.

Once you reach the desired consistency add the lavender oil one drop at a time. Process in between drops and taste as you go. It's easy to go overboard and ruin the mix.

Roll mixture into tablespoon-sized balls and roll in extra coconut to coat well. Refrigerate for at least 30 minutes. These taste better the next day.
Note: When using lavender essential oil make sure it's food grade. Jordanna uses DoTerra.
Looking for more recipes that feature lavender? Check out The Remedy Kitchen's Chewy Lavender Biscuits.