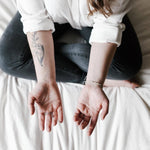 Principal consultant and founder of Cool. Karma. Collected., Marike Knight, is all too familiar with the stress involved in a corporate lifestyle. A qualified lawyer and communications consultant, Marike transitioned away from the hustle and bustle of the business world and sought out opportunities for people to manage stress better.

As an accomplished yoga teacher and stress management consultant, Marike told us:
Science is revealing that sleep and mindfulness are also handy allies in helping us to navigate our fast paced modern world; mindfulness, practiced regularly, helps us to become calmer, clearer and more connected to ourselves and the world around us, however another useful by-product is that it can help us get to sleep and even improve our quality of sleep.
Marike has kindly created a meditation for The Goodnight Co. to help you sleep easy. Take a listen below and sleep easy tonight.