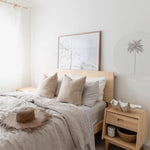 The first Australia-wide Sleep Week will run Monday 26th of September – Sunday 2nd of October and we are here for it. This week coincides with the lead up to Daylight Savings Time and also sheds light on the importance of sleep as an essential part of our health, productivity, performance and overall wellbeing.
Here at The Goodnight Co. we are on a mission to create better days through better sleep. And we know that unfortunately, sleep is often overlooked as a health and lifestyle factor. This week along with the Sleep Health Foundation, we are promote the importance of sleep via education and awareness.
Each day this week we will dedicate to a sleep-related goal or activity. We are encouraging workplaces, schools and businesses to jump on board with these goals, to reflect on their current sleep habits and be motivated to improve their practices to optimise sleep and overall health. 
Avoid Burnout and Fatigue
In this fast paced environment, we know all too well that burnout and fatigue is common in the workplace or school. We are therefore asking businesses to set aside an additional 20 mins during their day to allow students and employees to take a communal break. Relax with a cup of tea, step away from their electronic devices for a while, or take a short (WFH) power nap.
Get The Facts
Our overall goal is to create better days through better sleep. From sleep deprivation and sleep myths, to planning your day for your best sleep, learn this and more by visiting The Journal and The Sleep By Shea Podcast for all the sleep need-to-know.
Mid-week Wind Down
Do you find you're completely wrecked and its only Wednesday? A pre-sleep routine is key to maximise your sleep. Exercising, computer games and TV on a hand-held device can run the risk of disturbing sleep if too close to bedtime. Switch-off early and dedicate some time to a relaxing evening routine.
Sleep and Mental Health
Is your lack of sleep taking its toll on your mental health? Did you know people experiencing a mental health conditions are more likely to have sleeping difficulties? The good news is that improving sleep often reduces the severity of mental health problems. We encourage you to reach out for support if your lack of sleep is affecting your mental health.
Stress Less
Alleviate stress levels throughout the day to achieve a better night sleep. Find your calm through a quick Meditation or Breathing Techniques. Both are fantastic tools for decreasing feelings of anxiety, increases focus and promotes a sense of calm, not to mention also enables quality sleep.
Switch Off Saturday
Start the weekend on a good foot by being present in the moment and having a break from technology. Set yourself up for a great day by taking some time to focus on yourself first thing. Write a to-do or gratitude list and get outdoors to enjoy some fresh air. A walk in the sunshine, followed by some light stretching and yoga in the afternoon sets yourself for a great night's sleep.
Create a Sleep Goal
Do you have an aspect of your sleep routine you wish to improve? This could be going to bed earlier, switching off from technology 2 hours before bed, removing TV from the bedroom or avoiding eating a meal to late. Choose one aspect and commit to this for 30 days. It's expected that at the end of the month, there will be improvements to sleep, daytime productivity, mood and health.