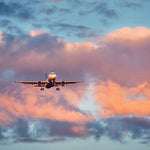 We love to travel, but whether it's short or long-haul, flying is not always the most enjoyable experience. Being trapped in a metal cylinder with a few hundred strangers for hours on end can become uncomfortable, no matter how often you travel.
As much as we wish we could all fly business class every time, there's no need to throw all of your cash away on upgrades just yet! Invest in a few small luxuries and you could arrive on the other end feeling like a first-class-flying superstar.
These are some of our favourite in-flight essentials:
Whether its accessing in-flight wi-fi, watching movies or just to make sure you arrive at your destination fully charged, a portable charger is a great investment to give your devices enough extra juice to last that 20-hour flight.
Smell amazing and sleep well! Soothe yourself into a relaxed state by rolling on your pulse points when attempting to get some rest. With tones of lavender, chamomile and cedarwood oil, our Goodnight Roll On is a wonderful sleep aid. This is a quick and easy solution to those sleepless flights.
Don't stop your beauty regime for that long haul flight. Wake up feeling refreshed and ditch the frizz. The cling-free properties in these Silk Pillowcases will mean arriving looking like you had your blow-dry during the flight, instead of 24 hours ago. And so you don't misplace your precious sleep companion on the plane or your hotel, snap up a handy silk travel case at the same time. The travel case will remind you to pack up your pillowcase before you depart, and is small enough to stuff into even the most duty-free shopping-laden carry-on luggage.
Screaming child sitting two rows behind you? Enough said.
The Goodnight Co. Ear Plugs are an inexpensive solution for noise-induced sleep interruption, as well as helping you get to sleep on those long haul flights while travelling. Put these in and sleep like a baby! 
5. Magnesium Oral Spray with Peppermint
 A tasty dose of The Goodnight Co. Magnesium Oral Spray with Peppermint could be the answer to both your sleep troubles and travel breath! Our Magnesium Oral Spray contains a rapidly-absorbed form of magnesium formulated to support a calm nervous system and deep, restful sleep. Magnesium is required for over 300 processes in the body, including many that affect sleep. It can relax tense muscles, aid with symptoms of anxiety and depression, and support the body during times of stress. Research suggests that magnesium supplementation can aid poor sleep by improving sleep quality. The addition of peppermint will leave your mouth feeling refreshed and revitalised! 
A Sleep Mask is as necessary to long haul travel as Nutella is to a broken heart. If you haven't yet discovered the 100% Mulberry Silk Sleep Mask by The Goodnight Co. then you are possibly not taking your travel comfort seriously enough. Our Silk Sleep Mask provide an additional barrier against disruption to your sleep, whether travelling or in the comfort of your own home. This 6A grade, 22 momme 100% Mulberry Silk Sleep Mask in Charcoal is filled with Silk Floss and has many benefits for your skin and sleeping patterns. 
Good quality sleep on a plane seems like an impossibility. The Goodnight Co. Deep Sleep Homeopathic Tincture is formulated to aid uninterrupted sleep and to support optimal sleep patterns. 
Tinctures are liquid herbal extracts that are taken orally, and our Deep Sleep Tincture contains a combination of homeopathic remedies which aid with deep, restful sleep, crafted with all-natural ingredients. Coffea Cruda assists in calming a busy mind at bedtime. Daphne is used to aid difficulty falling asleep or when having agitating, unrefreshing sleep. Kali Phos supports sleep issues associated with stress, and Mag Phos is beneficial in reducing drowsiness upon waking. Place three drops under your tongue and prepare for the flight of your dreams!
Pop away a little collection of your favourite skin care in a transit friendly size - usually under 100ml for international carry-on liquids but check with your airline! This selection of Aesop classics will help you maintain an impeccable presence during transit, and see you arrive fresh-faced at your destination. The kit is packed with seven travel-sized essentials to cleanse and moisturise hands, maintain optimum hydration for the skin, and ensure oral hygiene. 
Frequent traveller? Need more support for recovering from jet lag or even just sleeping in hotels? Find out more about our Sleep Retreats for Travel Recovery by contacting the team or find some more of our top travel tips here.