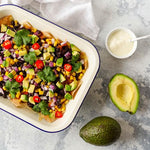 Rani Hansen is the brains behind You Totally Got This – a blog dedicated to helping people whip up quick and healthy weeknight meals. Rani started out as a lawyer who went on to quit sugar and hasn't looked back since.
Life is busy, but that's no reason to miss out on nutrient-dense meals. Take a look at Rani's blog for some more weeknight inspiration.
These healthy nachos are perfect for no-fuss Friday nights and they'll be ready to eat faster than your Uber Eats order! The beans are also high in protein and packed with vitamins B6, B12 and folic acid, which have been shown to help you achieve good sleep. 
Healthy Nachos (with the lot!)
Ingredients
1 ½ cups of corn chips (the yummy organic ones are ace)
½ cup of grated cheddar cheese
1 cup tinned crushed tomatoes
1 tsp cumin
1 tsp paprika
½ tsp garlic powder
Pinch chilli powder (or more if you like it hot)
1 small red onion
300g tinned corn kernels
1 cup of tinned black beans
½ avocado
Fresh coriander to garnish
1 long red chilli to garnish (optional)
¼ cup yoghurt (regular or coconut) or sour cream to serve

Method
Turn on your oven grill (broiler).
Dice the avocado and red onion, and thinly slice the chilli (if using). Set aside.
Add the crushed tomatoes, cumin, paprika, garlic powder and chilli powder to a small saucepan and place on the stove over a medium heat, stirring for 2 minutes or until warmed through.
Take the saucepan off the heat and set aside. That's your nacho sauce done.
Place the corn chips in the bottom of a small shallow baking dish (Rani used a 28cm dish) and sprinkle with cheese. Place under the oven grill until the cheese has melted. This will only take a minute, so keep your eyes peeled.
Remove the tray from the grill and top the melted cheese with the nacho sauce before layering on the chopped red onion, corn and black beans. Place the tray back into the oven for 5 minutes or until the ingredients are warmed through.
Remove your nachos from the oven and top with avocado, coriander and chopped chilli (if using). Serve with yoghurt or sour cream.
Browse our Sleep Eats recipes to nourish your body and rest easy.