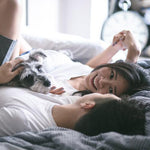 Whether to sleep apart or together is definitely a hot topic question for couples. A lot of people will take it as a sign of rejection if they're not sleeping with their loved one. However, are the long sleepless nights of blanket thieving and snoring worth it?

Research has suggested that sleeping with a partner in the same bed provides an array of health benefits. In fact, it's believed that sleeping with a partner may be a major reason why people with close relationships tend to be in better health and live longer.

A study conducted by Dr Troxel at the University of Pittsburgh, found that women in stable relationships actually fell asleep faster and awoke less frequently during the night than single women or those whose relationship status changed over the study period. Shared sleep in healthy relationships may lower levels of cortisol, a stress hormone. Sharing a bed may also reduce cytokines, involved in inflammation, and boost oxytocin, the so-called "love hormone" that is known to ease anxiety and is produced in the same part of the brain responsible for the sleep-wake cycle.

So, what does this all mean? Dr Troxel says, "The psychological benefits we get from having closeness at night trump the objective costs of sleeping with a partner".
It seems, bedding down with your loved ones may outweigh the costs of troubled sleep.

Research aside, your experiences may be different. If your partner does shift work or snores badly (or is a blanket thief!), sleeping in separate beds might be a better option for an undisturbed sleep.
And, if you're caught in the middle, there may be a better solution!

Jacqueline Hallyer, a clinical psychosexual therapist and relationships coach, says, "It's important to make a decision that is right for both people and to not feel that you need to be in the same bed together every night". For example, some couples start the night together before gravitating to their own rooms, whilst others make sure they jump into bed together in the mornings.

Ms Hallyer further explains,
Humans are very social animals and skin contact is really important to us. Countless studies show that people with skin contact are healthier and happier. If you've got a good relationship, and there's plenty of contact and you spend quality time together, you may not need to be in the same bed together night after night.