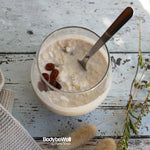 Diana Tencic from Body Be Well knows a thing or two about wellness. She's a food and fitness coach with over 16 years experience who is dedicated to helping you feel your best, whether it's with her wholesome recipes or practical exercise routines.
When it comes to food, Diana says:
Food and fitness are my life – and in that order too. We place so much emphasis on training our bodies while forgetting the essential fuels our bodies require. For me, it's the combination of these two in balance that are the key to achieving a leaner, stronger, fitter you.
She's shared this recipe for Gingerbread Overnight Oats, which are perfect substitute for those sugar-laden gingerbread cookies that are making the rounds at this time of year!
These overnight oats are the perfect way to start your day as they are packed with protein to keep you full, and just the right amount of energy to keep you going. The spicy cinnamon and ginger combination will also help kickstart your digestion for the day.
Gingerbread Overnight Oats
Serves 1
Ingredients
1/4 cup of organic plain oats
a glass jar (about 200mls in volume)
1/2 cup milk of choice (cow's, almond, coconut or whatever you fancy!)
1/4 teaspoon cinnamon powder
1/4 teaspoon ginger powder
5-6 sultanas
Method
Add oats and spices to glass jar.
Stir gently.
Add your milk and stir again.
Finally add your sultanas and set aside in the fridge for at least 10 hours.
Browse our Sleep Eats recipes to nourish your body and rest easy.