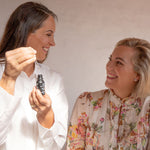 A note from The Goodnight Co. co-founders
Shea Morrison & Danielle Knight
So we are officially more than half way through the year, the days are starting to get slightly longer and warmer as we nudge our way into Spring. 
Often people can feel less motivated during the winter months particularly when it is very cold and dark – this can start to affect your mood. In the winter months, the colder temperatures, reduced hours of sunlight and vulnerability to sickness can naturally make us more likely to hibernate, be less active and slip into unhelpful lifestyles.
This can mean our moods can dip more easily, without us even realising it. Maybe we feel down, less motivated and find it harder to bounce back from moments of sadness. Instead of going 'against the grain' try to go with it… rather than saying yes to every invitation, over-scheduling your social and work life, have a look at what you can take out. 
What can you strip back, say no to?
Spend less time doing and more time simply, being? We are very caught up in a high stressed, 'busy', 'do more' culture and for a moment – during August you can enjoy the colder darker days by embracing the 'hygge' like the Danish community. 
Hygge is a word in Danish and Norwegian that describes a mood of cosiness and 'comfortable conviviality' with feelings of wellness and contentment. 
So this leads us to ask, what does relaxation look like to you? Can you easily slip into a state of relaxation? 
This month at The Goodnight Co. we will be sharing some ways that you can practise the art of relaxation. By bringing more relaxation into your day and night time routine, you can start to sleep better, longer and wake up feeling fully refreshed. 
Why is relaxation important for sleep? 
Activities that switch on the body's natural relaxation response feel great, and they have been proven by research to improve sleep. They help by reducing the release of the stress hormones cortisol and adrenaline and by slowing your heart rate and breathing – your body and mind calm down. Do you know how to completely relax?
Shea's Guide to Relaxation
For me, relaxation starts during the day by managing my cortisol levels so that I have more moments of calm within my day and then into the night. 
Don't get me wrong, I am not perfect and certainly experience feelings of stress regularly but I have worked out ways to manage this and use techniques to induce a fully relaxed state.
- During the day I use the calm range of products – The Goodnight Co Calm Essential Oil in my Diffuser, the Calm Roll On if I am on the go and I take the Calm Drops if I am having a particularly busy or stressful day.
- I schedule at least 2 breaks throughout the day. I like to go for a walk - sometimes this is only for 5 minutes, other times it is up to 40 minutes. It just depends on the day. I love getting outside into the sunshine –  Vitamin D3 (direct sunlight) can improve mood and energy
- Meditation – I meditate daily, sometimes once a day and often twice a day. I try to do my first meditation in the morning and then schedule a second one in the afternoon or evening
- I practise the box breathing techniques for a couple of cycles before going to sleep and love the child's pose – sitting in this yoga pose for 5 – 10 minutes before bed could help your nervous system to relax and your body to get ready for rest 
If you are looking to really level up your sleep to help you look and feel better then we recommend you focus on relaxation this month with us.  Just ask yourself, how can you be fully relaxed each night before bed?