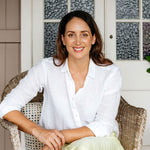 Our Co-Founder, Danielle, follows a sleep routine to get her best night's sleep, every night.
Danielle's Sleep Routine
Danielle's routine starts when she gets her 3 girls tucked into bed. She enjoys a cup of herbal tea to wind down in the evenings, and prepare her mind for sleep.
Danielle's golden rule is turning off her phone before bed! She has her bed time and wake time schedule set up in her phone so that notifications are automatically turned off each night - this makes the habit easier to stick to (we know, a late night scroll can be tempting!)
After popping on her PJ's, Danielle loves to spritz her pillow with Sleep Mist, hop into bed and sleep with her favourite Silk Mask and Pillow Case.
Build your Sleep Routine with Danielle below!