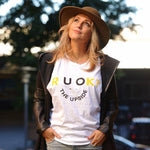 Today is RUOK? Day. It's something we're passionate about raising awareness of, given the link between mental health and sleep.
So, because RUOK? Day is all about having meaningful conversations about mental health, we grabbed Bianca Dye for a chat. Not only is she an amazing radio personality on the 97.3 FM Breakfast Show, but Bianca is also a passionate voice for mental health and awareness, with a huge following on her Instagram page, @anxietyfree.
How do you navigate a stressful day?
"The thing about navigating a stressful day is being able to admit that you're having a stressful day. That for me is the key. It may start with me waking up with a panic attack, my mind is racing and there is no reason for me to feel this. So I will start the day with an 11-minute meditation – that definitely helps me get out the door. I use a lot of essential oils (ylang ylang and lavender) and I believe that they really help me. I need to do some exercise because it's my body's way of letting me know that my adrenals are packed full and I need a release for those.
I also try to get weekly acupuncture and massages. I find that really helps with my stress levels. If I miss out on those little self indulgence things after about 3 weeks, I can feel the build up. I try to go to yoga as well.
If I know my anxiety is really bad, I have to be selfish and I won't reply to texts or calls that aren't urgent. I think, 'Today I have to look after me'. And you just have to surround yourself with beautiful, kind, caring, compassionate people that get it, that get you and know that you're not being selfish or a diva. That you are genuinely struggling and sometimes getting through the basics is enough. I do a live three-and-a-half hour radio show every day and my alarm goes off at 3:45am. Sometimes my body just says, 'No more! I can't do any more!' and I have to nap, or have an early night, or cancel plans. Sometimes you'll feel bad, but that's just the way you've got to do it."
What's your pre-sleep ritual to help you unwind?
"I have to schedule downtime. I do like to watch some Netflix, but some nights I just have to say no more screen time, because I literally go cross-eyed. I say, 'Ok, tonight – nothing'. Phone off, a bath with some bath soaks, and a beautiful book. And as that soak is getting into my skin, I can literally feel the day soak away. The power of a bath is incredible. I put on my oil burner and honestly, I just let the world disappear. I definitely don't do any screens after a bath – I let that grogginess set in and hopefully that sets in and lets me sleep better."
What's the one thing you can't sleep without?
"I have a sleep mask – I cannot sleep without a sleep mask on. I take it with me, especially when I'm flying, to shut out the whole world and just helps me cocoon myself. It's just divine. I think I'm so used to switching off the world with my sleep mask now that I think I'd struggle to sleep without it."
If you'd like to start a conversation with someone you care about on RUOK? Day, there are a bunch of great resources on their website. And if you, or someone you know, is struggling with anxiety and would like some help, please connect with the wonderful people over at beyondblue.