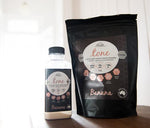 At The Goodnight Co., we believe there are three essential components to physical wellness... Sleep, Exercise and Nutrition.  
In this guest post, Monique from Peak Nutritionals talks about the importance of iron to combat fatigue, and how the addition of Bioactive Lactoferrin to your diet can help with iron absorption....
Be At Your Peak
How many times are you pressing snooze every morning?
How often do you find yourself yawning throughout the day?
Waking up still feeling tired is the norm for some, but don't make it yours.
Getting your eight hours sleep every night doesn't always do the trick. It is dependent on what you put into your body throughout the day. However, living a healthy lifestyle and not getting enough sleep will basically cancel each other out. This is why we need to find ourselves an achievable balance.
But yes… I know it's not always that easy. There's so many things we have to do but not enough time in the day; planning your meals, going to work, drinking enough water, keeping fit, having a social life, cleaning the house, moisturizing, AND getting enough sleep. Ugh I know... exhausting!!!!!!
 In order to have a good night's rest and wake up feel fresh and ready for the day ahead, we need to ensure our iron levels are up.
What does iron actually do and why is it so important?
Well iron carries oxygen from your lungs to transport it throughout your body. Without healthy red blood cells, your body can't get enough oxygen. If you're not getting sufficient oxygen in the body, you're going to become fatigued. Iron is also necessary to improve athletic performance, stimulate immunity, naturally promote healthy intestinal flora, prevent tissue damage due to ageing and maintain healthy cells, skin, hair and nails.
Where do we get iron from? Meat, nuts, leafy greens etc.
Sometimes we don't supply our bodies with enough iron or give ourselves the right foods to help absorb it, because… well that's just another thing to add to the list, am I right?
That's why it's always nice when something comes along that is easy, natural and effective.
Peak Nutritionals – Tone, is a whey based protein powder, to help with muscle recovery and assist with trimming up if taken in conjunction with exercise.  It's boosted with nature's own superfood, Bioactive Lactoferrin, which is immunity building and most importantly assists with iron absorption, something most of us struggle with attaining at the best of times.  With the addition of specially selected vitamins and minerals to support women and the demands of our busy lifestyles, and L-carnitine – the essential fat metaboliser!
Tone is a perfect post training accompaniment to ensure you are well nourished and ready for resting, so your sleep time can take over the next essential part of recovery. Over 8 hours of rested sleep per night is what your body needs to fully recover from exercise, the demands of life, and repair the body ready to start again.  It is also a fact that the more rest you get the better it is for weight loss!  I say ditch those devices, turn off the TV, throw your Tone bottle in the gym bag and jump into bed!
I can feel it working already….. You can thank us later! 
Till then…..
Monique x