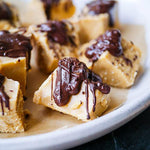 We all get those sweet cravings mid-afternoon or after dinner, looking for a treat before bed. Look no further than this delightful freezer fudge by Monique Cormack of Nourish Everyday. This isn't any old fudge, it's filled with ingredients perfect for a good night's rest.
The cashews in this freezer fudge are packed with good fats, plus they are high in tryptophan, the superhero sleep nutrient. It is used by the body to make serotonin, otherwise known as the "happy hormone", that affects your mood, gives you a feeling of relaxation and helps you sleep better. 
This fudge is also low in refined sugars, meaning that you won't hit too much of a sugar high, which can often leave you feeling restless and buzzy.
And powdered maca root not only gives the fudge a beautiful caramel flavour, but is also known for its adaptogenic properties and its ability to improve sleep.
5 Ingredient Cashew Butter Freezer Fudge
Prep time: 10 minutes
Serves: 20 pieces
Ingredients
1 cup pure cashew butter (no additives)

1/2 cup coconut oil

1/4 cup rice malt syrup or maple syrup (or other liquid sweetener)

1 tbsp vanilla extract

1/2 tsp fine sea salt

2 tbsp maca powder (optional)

50 grams dark chocolate (optional)

1/2 tsp extra fine sea salt for topping (optional)
Instructions
Take a small container or tray with raised edges (edges at least one inch high) and line with non-stick baking paper so that the paper comes over the sides. [I typically use a rectangular tupperware container about 22cm x 12cm.]

Place the cashew butter, coconut oil and rice malt syrup in a saucepan and gently melt together over a low heat, stirring until consistent. If using the maca powder, add this in now too, stirring until it's dissolved in

Remove from the heat and stir through the vanilla extract and the sea salt. Then pour the mixture into the lined container/tray and carefully place into the freezer to set.

Once hard, remove from the freezer and roughly chop and break up the fudge in to small pieces.

If you like, you can then melt down some dark chocolate and drizzle it over the top, and sprinkle over a little extra salt while the chocolate is still soft so it sticks on top of the fudge. (Set again by returning to the freezer).

Keep the fudge stored in a sealed container in the freezer. It will last for a few months.
Browse our Sleep Eats recipes to nourish your body and rest easy.