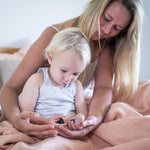 To help their bodies grow, children have faster metabolisms and heart rates than adults.This gives them a seemingly never-ending energy supply – which many of us are envious of – but also keeps their minds racing.
Kids sleep meditation is incredibly important. It helps them to concentrate, build their imaginations and language skills, and, crucially, get restful sleep. The Goodnight Co can help you to create mind time with this kit of simple meditations; designed for infants as young as two years old through to tweens. 
"I am not a meditation teacher or yogi however I love to practice both daily. I am also not a sleep expert. I am a Mum to Molly (4) and Max (2) and I want both children to understand the benefits of meditation and be able to use it throughout their lives – I wish I had been exposed to meditation in my early years. I am truly passionate about Mind Time for kids because it works."  ~ Co-founder of The Goodnight Co. Shea Morrison.
Why Meditation For Kids?
The benefits of introducing children to a meditation practice go far beyond helping them to sleep more soundly.
1. Psychological Benefits
Improved memory
Meditation helps a child remember things more clearly. If started early, this can help with their learning at school. 
Greater creativity
Due to focused attention, the children are able to explore their minds and formulate ideas. During childhood one's creativity is at peak, but what kids lack is focused attention which meditation helps to solve. With meditation, the child is now able to focus on his ideas which you can help him or her materialise. 
Reduced anxiety
With meditation, the child worries less and is calmer in stressful situations.
2. Spiritual Benefits
Intuition
With continuous practice, the child is able to become more intuitive, developing feelings of connection to other people and the environment.
Mindfulness
Practising meditation teaches children the art of mindfulness, encouraging them to be present and aware of their minds and bodies.
3. Physical Benefits
Improved immune system
Research shows that the people who meditate have lesser chances of suffering from high blood pressure, stroke and heart attacks. Children will grow up healthier and stronger.
Relaxed muscles
Mediation helps one relax not only his or her mind but also the muscles. This will reduce muscular tension leading to a more relaxed growth.
Reduced pain
The calm that comes with meditation helps reduce strain related pain like headache.
Better sleep
The relaxing effect of meditation will help your kids sleep more soundly and luxuriously. Good sleep will further enhance their concentration.
4. Emotional Benefits
In addition to the above benefits, meditation can have a profound effect on a child's emotional well-being.
Greater ability to love and be loved
Meditation helps children appreciate their surroundings; they are able to show more affectionate feelings towards others. People tend to respond in kind, something that will help your child develop a healthy self-esteem.
Greater confidence
Ability to calm their minds will help them face issues more confidently, whether it is that bully at school or that girl they really want to approach.
Positive Attitude
Generally, meditation helps the child project a positive outlook towards life.
Happiness
Meditation is all about understanding and following your path. When the child starts to follow his or her own path, he or she is happier and more fulfilled.
Chakra Centric
The meditations are centred on the role of the chakras – which are represented within this kit by crystals and felts. They take no longer than five minutes, and should leave children feeling calm, connected and conscious. You can even try adding some children's sleep music to assist cultivating calm. A calm mind leads to better quality sleep – the cornerstone of health and happiness. It's never too early to put mindfulness rituals in place.
Start young to develop positive behaviours that last a lifetime. Make these meditations part of your child's bedtime routine.
Mind Time In Action
Watch the video below of Shea with her daughter Molly, speaking about the Mind Time for Kids Kit.