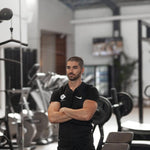 Becoming The Best Version of Yourself with Georgio Batsinilis
Georgio Batsinilis, the Co-Founder of FitazFk and Fitaz Gym, set out on a mission to help people become and feel like the best versions of themselves, through the power of movement.
As a new father, a husband and a business owner, Georgio's life is anything but quiet. Throughout his adult life as a Professional Trainer and during his time in the Army, Georgio learnt the importance of sleep, movement and routine very early on.
Follow along on his journey to FitazFk, and how him and his partner got his newborn to sleep through from the early age of 9 weeks!
Links to what we talked about
Use the promo code 'Goodnight' for 

20% off the FitazFk 28 Day Iso Challenge
Stay in touch 
Listen now