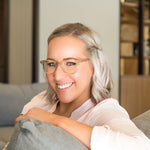 Sleep and Immunity with Emma Morris
Emma Morris is a clinical nutritionist, recipe developer, speaker and avid foodie and she is particularly passionate about mental health, gut health and hormones.
Emma has a very holistic approach to looking at how gut and hormonal imbalances can sometimes be the root cause when it comes to mental illness. And as we know anxiety and stress play such a big role in allot of peoples sleep problems.. so I am really looking forward to chatting with Emma about some of these areas today.
This week we explore:
Links to what we spoke about
Stay in touch 
Listen Now